By Vanessa Page on Jul 30, 2010 with Comments 0
---
The services of private chefs are used by those who don't have time to cook or who are arranging large dinner where caterers are required. But mostly private chefs are hired by those who cannot cook food or don't have enough time because of their busy schedules. Private chefs are also hired by companies to cater its employers. Many companies (small or large) have their own kitchens which are run by private chefs who are also considered the company's employees. Private chefs are not required to hold any professional culinary degree but that would be definitely a plus on their resumes if they have one. In order to get hired as a private chef you need to have these skills and qualities:
Any aspiring private chef need to acquire excellent cooking skills and should have basic knowledge about different cuisines. It's always better to apply and work in some restaurant before getting before looking for a private chef job. By working at a restaurant you can not only polish your cooking skills but can also learn about high-class service which would then be mentioned on your resume. Working in a restaurant will also help you polish your cutting and decorating skills. In addition to that you will learn a lot about table-setting and presentation etiquettes.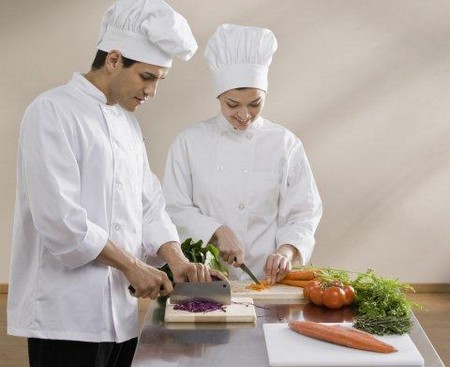 Develop PR. Talk to people around you and make contacts with those who are already working in the field or are familiar with it. Once again, working in a restaurant before applying for job as private chef can help you. At restaurants you can develop excellent PR and can personally meet clients. Good communication skills can definitely help you a lot.
Meet and develop contacts with people in your area and with other private chefs of your area. It often happens that one chef needs a reliever and hence temporary job opportunities rise in local areas. Keep your eyes open and always remain updated about your local job market. You should also check the job agencies time and again.
Create an excellent resume. Remember a good resume can help you get a job very easily. All you need to do is to mention and highlight your culinary skills and experience in an effective way to convince the employer that you're capable of handling the responsibility. Don't forget to mention your expertise in special cuisines if you have any.
When applying for the job, try to take a sample dish at the time of the interview. Your sample menu should include all the best dishes (starters, main course, and dessert). Do keep in mind the time of the interview. If it's near evening, you can take a dinner menu otherwise a lunch or brunch. You can also do some research and get to know about the nutrition needs of the client. It would be good gesture (and an impressive one) if you select a menu which is according to the needs of your clients.
Filed Under: Work & Careers
About the Author: Vanessa Page works a career counselor in one of the leading firms in Los Angeles. She is also a blogger and gives tips on how people can tackle their work and career issues. She has 8 years of experience in this field.
Comments (0)