By Bruno Silva on Feb 02, 2018 with Comments 0
---
If your child was born in San Diego, you will need to get a certified copy of the child or children's birth certificate. You can get the certificate by mail or you may go in person to get it. Birth certificates are needed to enroll the child in school, apply for a passport, and even a driver's license when the child comes of age. Also, if you ever needed to replace important documents like a social security card, you will need a certified copy of the birth certificate of the person whose name appears on the card.
Things You'll Need:
To Obtain the Birth Certificate in Person:
The full name it appears on the birth certificate
The mother's full maiden name
The date of birth of the person
The place of birth
$17.00 check or money order payable to: Health & Human Services Agency or $17.00 cash
To Obtain the Birth Certificate Via Mail:
$17.00 check or money order payable to: San Diego Recorder/County Clerk
Application for Birth Record by Mail form
How to Obtain a Birth Certificate for a Newborn in San Diego County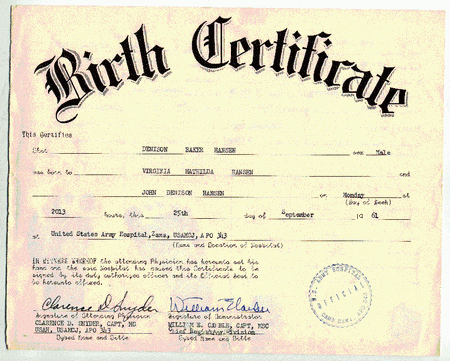 Step 1
In order to apply and obtain a birth certificate for a child less that two years of age:
You must appear in person at The Office of Vital Records and Statistics. The office is located at 3851 Rosecrans Street San Diego, CA 92110. The Vital Records office hours are 9:00 a.m. – 5:00 p.m., Monday through Friday.
Step 2
Be prepared to fill out the paperwork. The form will ask you for the full name of the person who you are obtaining a certified birth certificate for, the mother's maiden name, the date of birth and where the baby was born. The person who is applying for the certificate must also sign a sworn petition, under penalty of perjury, that they are authorized to obtain this certificate. Check to see who may obtain a certified birth certificate online at:
http://www.sdcounty.ca.gov/hhsa/programs/phs/office_of_vital_records_and_statistics/vital_records_new_law.html
Step 3
The fee for each certified birth certificate requested is $17.00. This fee is payable only via check, money order or cash.  The vital office does not accept debit or credit cards.
Step 4
To obtain and apply for a certified birth certificate via mail, the child  must be at least 2 weeks old or older. If the child is younger than two weeks you must apply in person at the office of Vital Records.
Step 5
Complete the application form. You can find the form online at:
http://arcc.co.san-diego.ca.us/arcc/docs/mailbirthapp.pdf
Step 6
You must have your mail application notarized. Sign your form in the presence of a notary so the certificate of acknowledgment requirement is met.
Step 7
Mail the form and the fee to:Ssan Diego County Assessor/Recorder/Clerk
Attn: Birth Records P.O. Box 121750 San Diego, CA 92112-1750.
Filed Under: General How To's
About the Author: Bruno Silva is an entrepreneur from Portugal with over 15 years of experience in Online Marketing. He is also a blogger and writes on variety of topics from online marketing to designs, cars to loans, etc.
Comments (0)