By Justin Belden on Aug 02, 2010 with Comments 0
---
Your computer is made up of many components. Three components that are directly related to the PCs performance are your computers memory, your hard drive, and your computers CPU. When a computer is overloaded with too many programs loading at startup, the performance of the PC suffers noticeably. Stopping Programs from loading into memory is one of the most effective ways to tune up your PC.
The following steps help us in restoring the memory spaces in computer.
Procedure:
Disk Cleanup
You can use the Disk Cleanup to sort important files from unnecessary files. The Disk Cleanup will show you which files are safe to delete. Once you've decided on what files to delete, the Disk Cleanup will automatically do the work for you.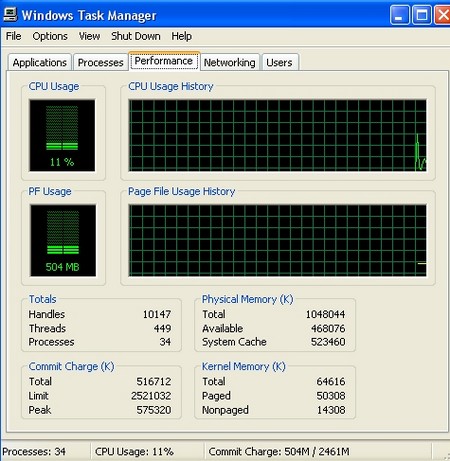 Uninstalling programs
Another way to free up some memory space on your computer is to uninstall programs which you haven't used for a long time. Examples of these installed programs are games you install or download from the internet which can take up a huge amount of memory space from your hard disk.
Delete some unwanted programs
You can start deleting these programs by going to the Control Panel and clicking the 'Add/Remove Programs' button. From there, you can choose which programs to uninstall to easily remove the programs and its components hence, saving memory space for your hard disk.
Deleting items in start menu
There are other simpler ways to save space on your computer. One of which is to delete items from your start up menu. These items are basically what you see when you click the Start button on your desktop. The Startup menu may contain irrelevant items that add to workload whenever the Windows start.
Deleting remaining folders after uninstalling certain programs
Another simple way is to just delete unnecessary or unused programs or files from the desktop. But, deleting the files don't end there, you have to make sure that deleting the files will go as far as deleting them from the Recycle Bin as well. Even if you have deleted files from your desktop or Startup menu, they will stay in the Recycle Bin and will continue to take some space from your computer.'
Cleaning recycle bin
So, you have to remember to constantly empty your Recycle Bin. Then, there's the easiest way to constantly remove unwanted files which is to reboot your computer once in awhile. Rebooting helps the memory of your computer to actually free its space after deleting every unimportant file from the PC.
Filed Under: Computers & Technology
About the Author: Justin Belden is a freelance web & graphic designer with over 15 years' experience. He is also an Avid member of the Design/Development community and a Serial Blogger who loves to help people by sharing interesting and informative tips and trick related to computer and technology.
Comments (0)