By Jason Prickett on Jan 12, 2010 with Comments 0
---
In most modern houses, plasterboard walls and hollow hard-board doors are common fixing problems. In older houses you may come across lath-and-plastcr walls (plaster on a base of wooden strips). With these surfaces, you can get a secure fixing by using mechanical devices which go through a hole in the wall and then spread out behind it to bear the load behind the surface as well as in the hole. However, even this type of fixing will not take heavy loads if the wall will not bear it. For heavy loads it is best to locate the base wood framework to which the plasterboard has been attached and screw directly into this. The framework can usually be found by plunging a bradawl through the plaster skimmed plasterboard. Plaster­board panels are 1200mm wide and the wood frame is behind each vertical scam so once you have found one vertical frame locating the rest should be easy. They are commonly 400mm apart.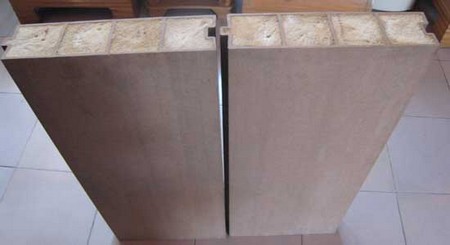 The fixings for hollow walls are generally called anchors and toggles though a few wallplugs will do the job too. Two things determine which type of device you should use – the depth of cavity you have for fixing into and the thickness of the board material. Most fittings need a minimum cavity depth of 25 to 30mm, some need 50mm and above. With a wallplug you may be able to fix into a 10mm cavity. Anchors can generally cope with board thicknesses between 3 and 12mm though some can cope with nearly 20mm. Toggles can be bought to cope with board thicknesses up to nearly 75mm. If you want to take down something you have fixed, a few devices will slay where they are when the screw is removed but most drop into the cavity and are lost.
All these fixings need a clearance hole passing right through to the cavity. The hole must be just large enough to accom­modate the various bits that have to pass through it. Usually this means that the hole is too large to grip the plug and prevent it turning.
Some of these fixings can be used on ceilings too, but attempt to find the ceiling joists (closer together than on walls) first. On ceilings these fixings can take only very light loads even a hanging plant pot is better suspended from the hidden timber joists.
Filed Under: Home & Maintenance
About the Author: Jason Prickett loves to write about home maintenance and stuff you can do yourself instead of hiring any professional. His step by step guides will assist you in completing your home maintenance tasks.
Comments (0)