By Justin Belden on Sep 17, 2009 with Comments 0
---
There are different types of runtime errors, caused by diverse software and hardware issues in your computer. One of the most common runtime errors occurs when you use MS Internet Explorer (IE) and the website you're viewing loads a lot of information and IE runs script debugging and freezes the loading process. Other runtime errors occur when you have program conflicts, viruses, or when your computer hardware runs out of memory. This article provides the workaround for preventing IE runtime errors from transpiring, plus basic steps on how to resolve common runtime errors such as software conflicts and hardware problems. We strongly advise you purchase reliable antivirus software for eliminating runtime errors due to viruses.
Procedure:
Things You'll Need
Computer
Internet Connection
MS Internet Explorer
Administrator Access
Fixing a Computer with Runtime Error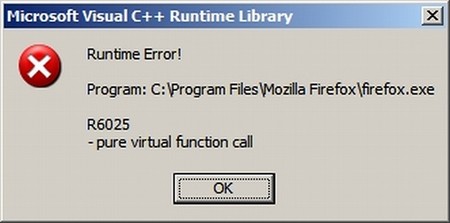 For MS Internet Explorer
Open Internet Explorer, click the Tools menu, and then select Internet Options, then choose the Advanced tab.
Make sure the following options are marked: 'Disable Script Debugging (Internet Explorer)' and 'Disable Script Debugging (Other)'. Click the boxes to mark the options if they are unmarked.
Check if this option is unmarked: 'Disable a Notification about every script error'. Click the box to unmark the option if it is marked.
Click OK, then close Internet Explorer and then reopen to implement the changes.
For Other Applications
Close the Runtime error message and close the program or application that displayed the message. If the problematic application does not close, press Ctrl+Alt+Delete to open the Task Manager window, select the application, and then click End Task.
Reopen the problem application and check for updates or patches. If the runtime error recurs, try uninstalling the program and reinstalling it, and then download all the updates before you use it.
Consult a computer hardware technician if your runtime errors are memory-related. You may need to upgrade your computer if it is too slow to keep up with your software, or you may need to reformat your computer if viruses have affected your PC to a point of no return.
Check if you installed add-ons or plug-ins to your application, and determine when the runtime errors occurred: before or after the installations? If the runtime errors came up after you installed the plug-ins, try removing them, restart your computer, and then use your application again to see if the runtime errors recur.
Tips
Clean up your registry with a commercial registry cleaner application. This ensures your system isn't clogged with unused registry files after you uninstall programs.
Back up your files on a regular basis (and on a separate media, not on your own hard drive). This ensures you have copies of your work whatever problems you may encounter with your computer. Make sure you make your backups only after you determine your system is free of viruses and trojans.
Update your antivirus signature files every week, at the most. New viruses and their variants come up just as regularly, so it's best to be safe.
Filed Under: Computers & Technology
About the Author: Justin Belden is a freelance web & graphic designer with over 15 years' experience. He is also an Avid member of the Design/Development community and a Serial Blogger who loves to help people by sharing interesting and informative tips and trick related to computer and technology.
Comments (0)