By Alan Kennon on May 18, 2010 with Comments 0
---
Being a bride is one of the most important occasions that will happen to a woman. No matter the size of the wedding party., every woman likes to think of her wedding day as her special day. While wedding dresses may come in every style and color imaginable, every bride has a sneaking fear. The unsightly appearance of fat rolls underneath or above her dress. Fat spilling over the top of strapless dresses is not the best otpion. Here are a few tips to help you fit into that wedding dress and help you look great while doing so.
Procedure:
Things You'll Need:
Bra/girdle
Step 1
Increase your exercise to reduce face that accumulates in places like the back. You should get some cardiovascular exercises in. Work on toning the back to help reduce the total amount of fat on your body. You should start this months to a year before your actual wedding date to ensure you have a successful fitting. Take a look at linen pants for beach wedding to know your options.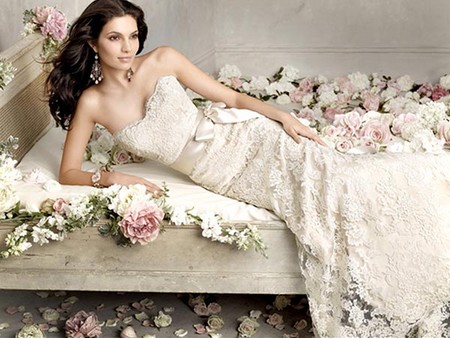 Step 2
Take a walk. Walking is a great option when you are trying to lose weight. Make your walk from 20-30 minutes daily. This increases oxygen levels in your body and boosts weight loss attempts. Walking is low inpact to every person can engage safely in the type of exercise.
Step 3
Make some changes to your diet. Substitute foods that are high in fat and calories with whole grains and fresh fruits and vegetables. This will help jump start your metabolism and speed up the process of losing fat.
Step 4
Increase your water intake. The best drink for the body is water. Leave off sugary drinks, even diet ones. Keep a log of how much weight you lose by just drinking water. After a few weeks you will find you are several pounds lighter just by drinking water and not soda or sugary sports or diet drinks.
Step 5
Make sure you eat at the same time every day. This helps your body burn calories at a steady rate. Eat your last meal two or more hours before you go to sleep. Do not eat a meal then go to sleep right after eating.
Step 6
On the day of your wedding you can choose to wear a girdle or bra under your dress to hide the fat. Most wedding shops and bridal stores can help you with your needs. You need to make sure to get sized properly so the artificial supports are not so restricting that it makes you uncomfortable on your special day.
Step 7
If you are still not satisfied, then opt for put a shrug over your dress. You can also choose to change the style tof your dress to accommodate your specific tastes.
Filed Under: Lifestyle & Personality
About the Author: Alan Kennon lives a very happy life with two kids and a lovely wife. He likes to share his life time experiences with others about how they can improve their lifestyle and personality.
Comments (0)