By Jason Prickett on Mar 13, 2010 with Comments 0
---
All of the joints between boards and the    plasterboard is ready for direct indentations left by nailing must be filled and smoothed before the ivory-coloured surface of the plasterboard is ready for direct decoration. You will need filler, finish and jointing tape.
Tools and materials
The filler and finish are prepared for use by being mixed with water. The paper jointing tape is 53mm wide with feathered edges, and is creased along its centre. It is used for reinforcing flat joints and internal angles. A special paper jointing tape is available for covering and reinforcing external angles. This tape has thin metal strips on each side of its central crease which strengthens the corners.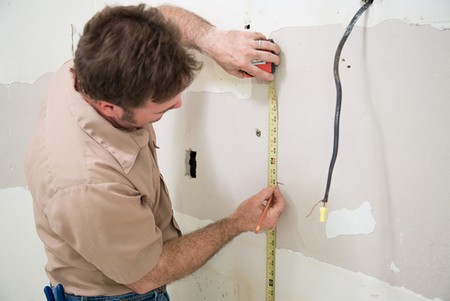 Skilled plasterers use purpose-made tools for finishing joints, but you can use medium and wide filling knives, a plaster's trowel and a close-textured plastic sponge.
Covering nails
Fill the indentations left by the nailing, using a filling knife to apply the filler and smooth it out. When the filler has set apply a thin coating of finish and feather it off with a damp sponge.
Filling tapered-edge board joints
Mix the joint filler to a creamy consistency and apply a continuous band of it about 60mm wide down the length of the joint.
Press the paper tape into the filler, using the medium size filling knife, bedding it in well and excluding air bubbles. Follow this with another layer of filler applied over the tape to level the surface, this time using the wide filling knife. When the filler has stiffened slightly, smooth its edges with the damp sponge, then let it set completely before filling any remaining small hollows.
When all the filler has set coat it with a thin layer of the joint finish. Mix the finish thoroughly to the consistency of thick cream and apply it in a wide band down the joint with a plasterer's trowel. Before it sets feather off its edges with the dampened sponge, and after it has set apply another thin but wider band over it, again feathering the edges with the sponge, working in a circular motion.
Internal corners
The internal corners of dry-lined walls are finished in a way similar to the method used for flat joints. Any gaps are first filled flush with filler and if necessary a band of PVA bonding agent is applied to the original ceiling or wall plaster to reduce its suction.
Cut the paper tape to length and fold it down its centre. Brush a thin band of finish on to each side of the corner and press the paper into it while it is wet. You can use a square section length of wood to press down both sides at once to remove air bubbles.
With a filling knife apply a 75mm (3in) wide band of finish to both sides of the corner immediately and feather the edges with a damp sponge.
When the finish is set apply a second, wider coat and feather the edges again.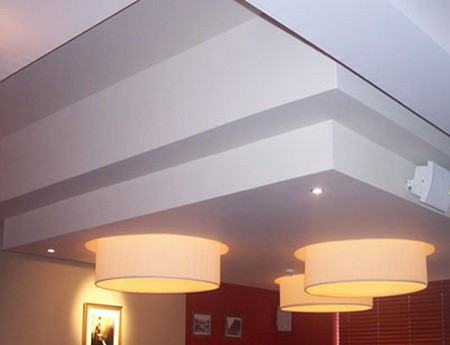 External corners
When finishing an external corner joint of plasterboard use the metal-reinforced corner tape. Cut it to length, fold it down its centre, apply a 50mm (2in) wide band of filler down both sides of the corner and bond the tape on it using a wide filling knife to keep the corner straight. Press the tape down well so that the metal strips are bedded firmly against the plasterboard, except when tapered edged board is used and the corner tape is filled out flush with the surface. Apply two coats of finish, feathering the edges as for internal corners.
For a very vulnerable corner use a length of metal angle bead. Apply a coating of filler to each side of the corner, then bed the angle bead in it, flushing it off with a knife before leaving it to set.
Apply a second coat of filler to both sides in a wide band and feather it off with a damp sponge.
When the filler is set apply two coats of finish, feathering off as before.
Filed Under: Home & Maintenance
About the Author: Jason Prickett loves to write about home maintenance and stuff you can do yourself instead of hiring any professional. His step by step guides will assist you in completing your home maintenance tasks.
Comments (0)