By Bruno Silva on Jul 30, 2010 with Comments 0
---
Food lovers would simply agree that morel mushrooms make any dish become lively due to its nutty taste, a taste which balances all flavors on ones plate. A morel seems a funny thing with its roughened and elongated shape. Moreover it is dark in color. It is not easy to find fresh morel type of mushroom, however one can search for it on online stores or special local stores. Moreover, you can also hunt for them on your own. Here are some guidelines which would surely help you in finding fresh morel mushrooms.
In forests:
Hunting for fresh morel mushrooms is a rigorous task and you should do it if you feel you are up to it. They are mostly found in Northern states on high places, in middle (almost) of a regular year. Usually they are found near dying trees. However, be careful because all the morel mushrooms are not safe to eat. You should go with someone capable of telling the difference between two types.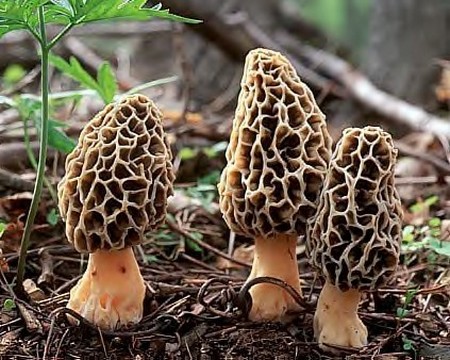 Mushroom hunting clubs:
For a beginner going to hunting clubs is extremely helpful and best way to start. The will tell you about all the precautionary measures and safety rules. Moreover, you will also come by new friends and know their experiences in this field. You will come to know the places as well where you can easily find the Mushrooms.
Backyards:
These mushrooms sprout out sometimes in uncommon places like backyards and hedges. So, search for one as you can be lucky to find on in your own backyard!
Festivals:
There are different websites regarding morels, one of the example is Morels. You should find the areas where the upcoming festivals are going to be held, and their schedules which you may attend. You may buy souvenirs and fresh morel mushrooms. Hunting tutorials are also given at some festivals and they are an important part of those festivals.
Online shops:
There are a number of online stores which from which you may buy fresh morels. Some best examples are Earthy and Marx foods. This is costly way but it is also stress free and easiest way to buy these mushrooms.
It is time consuming and costly for when you find morel mushrooms in America. Despite the start of morel mushrooms' cultivation in United States, the present production rate is not enough to meet the present demands of all the mushroom lovers. Buying online is the easiest way and less time consuming , but it is a bit more expensive. However,  buying online, attending festivals or hunting; all this would be justified after you taste the delicious and unique flavor of these mushrooms.
Filed Under: General How To's
About the Author: Bruno Silva is an entrepreneur from Portugal with over 15 years of experience in Online Marketing. He is also a blogger and writes on variety of topics from online marketing to designs, cars to loans, etc.
Comments (0)