By Jason Prickett on Jul 30, 2010 with Comments 0
---
Eco friendly painting can be found in two choices either zero VOC or low VOC paints.  Doing whatever you can to protect your interior environment is extremely important for your health and that of those who come into your home or business.  According the EPA, the air that is inside your dwelling is not one or two but three times greater in pollution than the air outside.  Among the top causes of air pollution in the interior of a dwelling, is due to the finishes and the paints.  Now you can see why choosing paints that are eco friendly is so important.
VOC paints or Volatile Organic Compounds stands for toxic emissions that permeate the air you breathe inside your dwelling which is released from finishes and paints used in the décor.  This is not just from freshly done painting but from paint over many years.  Fortunately there are new regulations governing environmental concerns and the 'green' movement is advancing rapidly.  Because of this growing awareness about the air we breathe, new paints have been developed that are both zero-VOC or low-VOC finishes and paints.  The movement has grown to the extent that most manufacturers of paint products are producing these new paints and the variety is growing to meet the need.  With so much interest in eco friendly paints, they have become affordable, durable and much better for the health of those who spend time in your dwelling.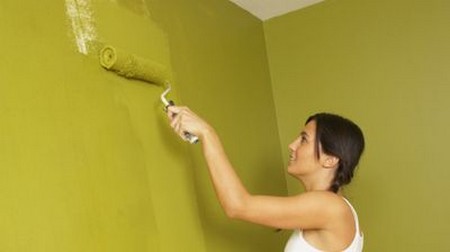 The biggest names in paint produce their own line of eco friendly paints and have new lines of zero-VOC premium interior paints available that are both durable and quick-drying.  One of the greatest assets to the eco friendly paints is that there are literally no odors from these paints and they do come in a wide range of colors.  These have also been newly released Nationwide.  Some product lines are not only in a wide range of colors, odorless, and are durable but are also resistant to mildew and offer easy cleaning.  Even more impressive is that some of these products also reflect energy and in so doing cooling and heating costs are reduced almost fifteen percent.
If you have decided to hire a professional to paint the interior of your home or office or business then it would be in your best interest to ask about their eco friendly painting practices.  Both commercial and residential painting is now available in low VOC paints and any contractor should know about this option but you will probably need to ask for it.
The purpose of painting any structure is on the exterior to protect it from the elements and to look pleasing.  On the interior the paint also protects the walls from everyday use while still being a decorative feature that gives the space life and eye appeal.  Paint gives off a vapor which is toxic and bad for your health.  Toxic vapors are common ingredients in paints except for the new eco friendly paints.  When the Volatile Organic Compounds of the paint turn into vapors it is a gas that is released into the air.  It produces a kind of smog that affects the lungs and causes respiratory issues besides damaging plants.  Exterior paints are actually one of the factors that are causing the global warming effect.  Look into the low and zero VOC paints and your planet will thank you.
Filed Under: Home & Maintenance
About the Author: Jason Prickett loves to write about home maintenance and stuff you can do yourself instead of hiring any professional. His step by step guides will assist you in completing your home maintenance tasks.
Comments (0)