By Leona Kesler on Feb 28, 2018 with Comments 0
---
Cooking stimulates your senses. Close your eyes and conjure up some of your favourite foods. If you try, right now, you can smell the aroma of freshly baked bread, or a chicken roasting in the oven. If you take the time, you can savour the many delicate flavours combined to produce any dish. You can remember occasions when food was the stimulus for great, relaxed gatherings of family and friends. The aroma of certain spices or herbs can often transport you back to a favourite holiday when meals were an adventure. There is no reason for food not to be as exciting once you're back at home.
Cooking is a labour of love. Whether it is as simple as having to provide nutritious meals on a daily basis for your family, or as inspired as spending hours in the kitchen preparing a feast for friends, ensure that your kitchen is well stocked will make the job more pleasurable.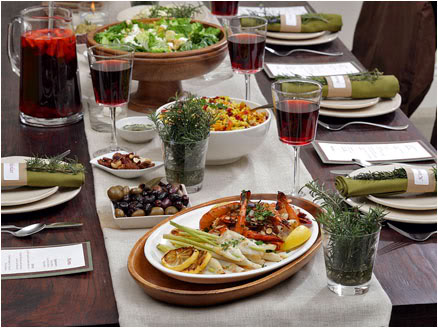 It's a basic fact of life that we all need to eat every day. It can be something you try to get over and done with as quickly as possible or a real pleasure. Why not take the time to enjoy something that you have to do anyway? Make the most of it. Get into the process. Indulge your senses, even if you are making the simplest meal. Use fresh ingredients. Make it look beautiful. Sit at the table. Eat slowly. Appreciate the flavours. Give thanks.
The dinner party
Prepare as much of the food as you can the night before. Some dishes are actually better if prepared in advance, so have a good look through your cookery books and take a little pressure off. Go for the old favourites that you have cooked a number of times and always love. The less you have to do, the easier it is to keep your guests amused!
If you're not confident about your cooking abilities, don't feel guilty about serving prepared food. I won't tell if you don't. Many food retailers and speciality shops have excellent selections, which get better all the time, so if you really don't have the time or the talent, it's as simple as deciding what to buy. Your favourite restaurants may also be able to help, so give them a call.
Your wine selection should enhance the flavours of your meal. There are no rules about red or white, just make sure you get the right body to complement the food.
Most wine merchants are passionate about their wine selections and will gladly advise on the best wine for the meal. Tell them your price range and the dishes you are serving. Do this well in advance so that you can drink the wine at the right temperature.
Filed Under: Food & Cooking
About the Author: Leona Kesler is a head-chef at a very popular food restaurant in New York. Also she is a blogger who shares her experiences, tips, and other informative details about food and cooking. Her recipes are featured on many magazines.
Comments (0)