By Leona Kesler on Feb 28, 2018 with Comments 0
---
No matter if you are having a dinner party or Monday night dinner meatballs can be the perfect dish. They can add spunk to spaghetti or be served alone. Everyone loves Italian food. Here is a classic Italian recipe for making your own meatballs from scratch. You don't have to be a professional chef to make these. However, after everyone has a serving of your new meatballs they may think you are. Here is how you can make classic, authentic meatballs from an Italian recipe. Read on for more information.
Items You Will Need:
Eggs (2)
Ground Beef (1 and ½ lbs.)
Bread Crumbs (1/3 cup
Parsley (Dried or Fresh)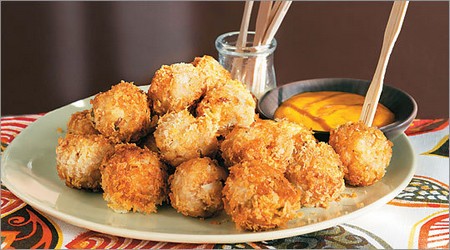 Grated Cheese (1/3 cup)
Pepper (1/4 teaspoon)
Garlic Salt (1/2 a teaspoon or more)
Large Mixing Bowl
Skillet
Step 1
Combine the ground beef, bread crumbs, pepper, garlic salt, parsley and cheese together in a mixing bowl. Make sure the mix is not overly dry. It should be moist.
Step 2
Section of the mixture into even sized balls. Make sure they are all the same size so they cook at the same rate.
Step 3
Put the meatballs in a skillet. Cook until browned. You can also put the meatballs in a pot of spaghetti sauce and cook them that way. They should not be pink inside. Cook the spaghetti noodles in a separate pot. If the meatballs are ready, spoon the sauce and the meatballs over the spaghetti.
Suggestions
If you want some added flavor and lift, add some sharp cheddar to the meatballs. You can experiment with flavors by using Lipton Onion Soup Mix or other packets that may sound good to you. That will all more zest and body to the ground beef.
When you use the spaghetti sauce method of cooking the meat, this ensures that they are moist and tender. When the meat is fried the outside of the meatballs are browned and has a harder texture. Both are very delicious methods, it really is just a matter of personal taste.
You can opt to use regular tomato based sauce, or you may opt to use a different kind of sauce like Alfredo sauce.
You can also change the kind of pasta used. Penne, angel hair and even bow tie pastas would work well with the meatballs. You can try all pastas.
If you are opting to cook the meatballs in a frying pan, use the best oil you can find to do. Be careful when cooking with oil. Take precautions against splatters.
No matter the method of cooking, inspect the meatballs to make sure they are cooked thoroughly. There should be no traces of pink in the middle.
Filed Under: Food & Cooking
About the Author: Leona Kesler is a head-chef at a very popular food restaurant in New York. Also she is a blogger who shares her experiences, tips, and other informative details about food and cooking. Her recipes are featured on many magazines.
Comments (0)