By Carl Tackett on Apr 27, 2010 with Comments 0
---
You'll never be short of something to do or see in Belfast, with its atmospheric history and cutting-edge visitor attractions. Whether you prefer interesting architecture, beautiful gardens and open spaces or exciting and colourful entertainment, this city has it all.
Interesting buildings to visit include Belfast City Hall, which is one of the finest classical Renaissance buildings in Europe. This Edwardian masterpiece, which dates from 1906, is finished in Portland stone and is the home of Belfast City Council. Guided tours are available, and interesting features include the ornate dome, grand staircase and the priceless mural of Belfast's industrial heritage by John Luke.
Belfast Castle, on the slopes of Cave Hill, is a wonderful place to take in plenty of historical atmosphere and beautiful gardens. And the early French Gothic Clonard Monastery is a must, with its rich interior and mosaics, and polished red granite columns resting on white marble bases.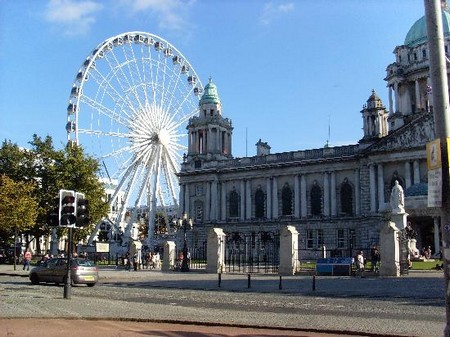 St Anne's Cathedral is another interesting building to visit. This imposing Hiberno-Romanesque building could be called a shrine to persistence: it was partly completed and opened in the 1890s, but wasn't finished until nearly a century later!
Another stop on your itinerary should be Malone House, an elegant mansion that commands stunning views over the Lagan Valley Regional Park. It was built in the 1820s, and the last resident was a prominent grain merchant, who presented the house to the City of Belfast in 1946. There is an art gallery upstairs.
Continuing the arts theme, the Old Museum Arts Centre is one of Ireland's leading centres for visual and performing arts. It is located in a Grade A listed building of architectural importance, which was built in 1830 and was the first museum in Ireland. Admission to the exhibitions is free.
Another interesting place to visit is the Bell Gallery, which has two well-lit galleries that contain a good selection of Irish paintings and sculptures.
If you have plenty of time on your hands, Ulster Museum and At Gallery deserve a full day to do them justice, with their rich displays of archaeology, ethnography, art, history and natural sciences. The museum's award-winning Early Ireland Gallery and the Made in Belfast exhibits are a must, and the art gallery features exhibitions from the museum's collection of contemporary fine and applied art, including Irish, British, European and American art One display that deserves a particular mention is the recently acquired Saatchi collection of 12 works by young artists, which is already proving to be very popular. And children will love the Treasures of the Spanish Armada, featuring exciting items recovered from the Girona, which was shipwrecked off the Giant's Causeway. The Museum is planning a programme of major redevelopment works in the near future so, as always, check that it is open before you go.
Another favourite with children is Aunt Sandra's Candy Factory, where you can watch handcrafted sweets – including honeycomb, fudge and novelty lollies – being made, just as they were in the old days. Some recipes are over 100 years old.
Other interesting places to visit include Belfast Telegraph Newspapers, where you can see the actual pages of the next edition being made up for the camera, plus plate-making and printing processes of Northern Ireland's evening newspaper, the Belfast Telegraph. The Wastewater Centre is also worth a visit. Don't let the name put you off. This centre features an interesting 'Clean and Green' exhibition, and its highlights include a tour to a Victorian sewer, science labs, a steam engine pond and wildlife area. The centre is open from Monday to Friday by arrangement only, so you will need to telephone first.
For those of you in search of the great outdoors, you won't have to travel far to find some exciting places. Sir Thomas and Lady Dixon Park is one of the world's best rose gardens. This is where the City of Belfast International Rose Trials are held, usually between July and September each year. The park also has a Japanese garden and a play area for children.
The Botanic Gardens are also worth a visit. These contain the Palm House and the Tropical Ravine, which is a fine example of horticultural Victoriana. The Botanic Gardens also contain a rose garden and herbaceous borders, which were established in 1920.
Grovelands, meanwhile, with its art deco entrance gates, is situated about three miles south of the city centre, and features ornamental gardens and a sunken garden.
Don't forget Lagan Valley Regional Park, which stretches from Governor's Bridge in Belfast to the former Union Locks in Lisburn. The park spans 1,700 hectares of countryside and 21 kilometres (13 miles) of river. The Giant's Ring is also a must. This prehistoric enclosure, which measures over 200 metres (219 yards) in diameter, has a dolmen (stone table) in the centre and is open from dawn until dusk.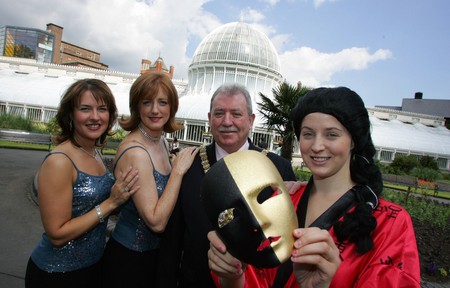 On the entertainment side, a wide variety of events and attractions takes place in and around Belfast throughout the year. The Cathedral Quarter Arts Festival is a dynamic fringe festival located in the historic heart of the city. The festival aims to celebrate the best new local talent, and also takes in the most cutting-edge national and international new works. The visual art exhibitions, street theatre, talks and debates are free.
Also worth mentioning is Belfast Festival at Queen's. This is a commercial event, and you will have to pay to see the theatre, dance, visual arts, music and comedy productions. However, they sometimes include free events, such as processions and firework displays. Events change each year however, so check with them first.
Belfast also has many colourful parades. The West Belfast Festival, for example, features a parade and other free events Other parades include the St Patrick's Day Parade, and the Lord Mayor's Show, which usually features many colourful floats on a particular theme. For example, recently the theme was CS Lewis's tales of Narnia, and featured fantastic floats entitled 'Asian the Lion', 'the Dawn Treader' and 'the Ice Castle'.
For a full list of free events in and around the Belfast area, check with the local tourist information centre.
Filed Under: Uncategorized
About the Author: Carl Tackett is a travel enthusiast. He has traveled to over 50 destinations all over the world. Currently, he is residing in England. He loves to write about traveling and helping fellow travelers.
Comments (0)