By Alan Kennon on Jul 30, 2010 with Comments 0
---
The most exciting part of any sports that keeps the spectators going all through the end of the game is either the on-building anticipation or the team of cheerleaders standing and bucking-up on the perimeters of the field or court.
Looks and dressing are the two most fundamental properties of a cheerleader that need to be picture perfect always. At cheerleading tryouts judges are usually very particular about the way each participant looks, so inquiring beforehand about any tryout specifics related to clothing is a good idea.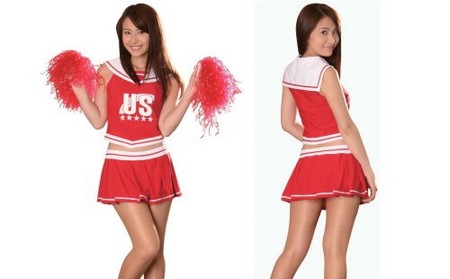 As cheerleading is all about self- confidence, exhibiting an optimistic attitude and exuberating positive vibes, it is absolutely necessary to look good at all times too. As the saying goes "If you look good you feel good…" Therefore, the checklist for a fine cheerleading costume should be topped with comfortable and good fitting.
Always make sure that your uniform is not loosely fitted. It should be right for your size so that during display your poise and posture is clearly defined. Extra dangling cloth usually ends up in tripping or somehow coming in the way of your routine which definitely doesn't leave a good impact. Secondly, being comfortable in your outfit leads you to put up a good show. Whenever buying cheerleading clothes, try them on to check for any cuts or holes that may distract the audience. Do some stretches, lunges and hops to make sure the uniform stays put on you perfectly and that you'll be able to manage it throughout the routine and stay hassle free.
When going out for tryouts or even the final show, always keep in mind what material your uniform is made off. Generally, spandex happens to be the best option. It is tight and shapely yet keeps you totally at ease. Spandex is a very flexible material that can be easily stretched in any shape and to any extent and it still stays clinging to your body.
Moving over to the colors, it only seems sensible to wear ones school or institute themed colors after all cheerleading is all about team spirit and loyalty to ones team. Another good move would be to get the institutes monogram or motto emblazoned somewhere on your shirt or sleeve. The position should not really be discreet and not in your face type either.
In the end, to top the perfect cheerleader image, tie up your hair in a nice and neat ponytail along with hair soft enamel pins for support so that hair strands do not come out loose and hinder your performance by getting in your eye. Keep a bright cheery smile on your face and let the judges and your audience know that your team is the best!
Filed Under: Lifestyle & Personality
About the Author: Alan Kennon lives a very happy life with two kids and a lovely wife. He likes to share his life time experiences with others about how they can improve their lifestyle and personality.
Comments (0)