By Jason Prickett on Oct 16, 2010 with Comments 0
---
This project shows you how to reproduce a marble effect and transform a base of hardboard into a rich and opulent surface with depth and color.
For many centuries the beauty and richness of natural marble has been imitated. Sometimes it is simulated to perfection, sometimes painted as an effect. We have opted for painting slabs of richly colored stone-like marble in a chequerboard effect.
The smooth surface of hardboard is perfect as a base to work on, but you will need to apply a coat of primer paint first and then paint it with a smooth basecoat of acrylic eggshell, for this project I applied two coats of acrylic eggshell paint as a base, choosing a sandy/brown color because of the strong warm colors of this particular marble effect.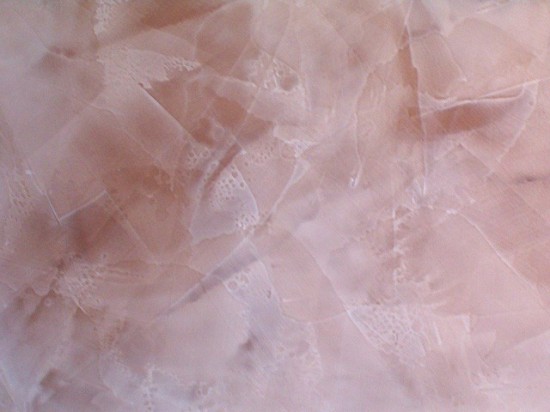 There are all kinds of possibilities, not only for color, but also for creating inlaid patterns with marbling. Remember, though, to keep the sections fairly small as acrylic paints have to be worked quickly – if the scumble glaze starts to dry it becomes difficult to soften. It is best to work on sections no bigger than a half metre (20 in) squared.
This project is probably the most demanding, but once you get into the swing of the technique, it is extremely enjoyable, fry experimenting with different shapes and colors. If in doubt, look at real marble and stone for inspiration – without exception it is always beautiful!
Day One
Make sure that the acrylic eggshell basecoat applied the night before is completely dry, then measure and mark out large squares across the whole floor.
Apply a coat of clear acrylic scumble glaze over one complete square.
Dab acrylic color (Mars violet) straight from the tube onto the tip of the brush.
Apply the paint, pressing the brush firmly into the glaze to avoid harsh streaks of color.
Apply a second color (burnt umber) in the same way, blending this through the existing red.
Collect some burnt umber acrylic along the edge of a feather.
Mark in the veins of the marble, keeping to one direction.
Dab this glaze with a cotton cloth (I used a torn-up old cotton sheet) in the direction of the veining, turning it now and then to keep it fairly clean. Discard the cloth and use another one if it becomes too wet with paint.
Soften very gently with a soft brush (I used a dusting brush), using only the tips of the brush to blend the colors. Wipe the softening brush now and then with a cloth to keep the bristles clean and dry. If the brush becomes clogged up, wash it out with soapy water and dry it thoroughly with a hairdryer before you continue.
Add more veins if required and soften again. This has to be done quite quickly before the glaze dries too much.
Open up any very dark veins with the clean tip of a feather.
Wipe off the edges of the squares with a damp cloth, leaving a clean edge. Leave to dry. You could then also varnish the red squares and leave these to dry overnight before painting neighbouring squares if you wish.
Day Two
When the red squares are completely dry, paint in the orange squares in the same way. Carefully wipe off any glaze overlapping onto the red squares. Paint in grout lines – or leave natural joins.
When dry, varnish the whole floor with tough acrylic floor coating or just the orange squares if you have already varnished the red ones. You could use a gloss, matt or satin finish. I prefer a satin finish as it looks softer than gloss; a slight sheen gives the marble a little more depth than a flat matt finish. On the following day apply tough acrylic floor coating to seal the whole floor.
Filed Under: Home & Maintenance
About the Author: Jason Prickett loves to write about home maintenance and stuff you can do yourself instead of hiring any professional. His step by step guides will assist you in completing your home maintenance tasks.
Comments (0)