By Alan Kennon on May 27, 2010 with Comments 0
---
There are many ways to display a collection of books. So basically, it is nothing but a matter of personal opinion. You may want to purchase the Book of the Month and add them to your collection. Display of a collection of books depends on many factors like the number of books in your possession, the amount of space available, the value of the books, the frequency of their usage. These can be displayed horizontally, vertically or even with their covers facing out. The most appealing display will be one that has the three styles in combination. You may also include photographs, flower vases, etc. in the display. So, are you looking for what book to collect and read next? Download Likewise app now and discover your new favorite book.
Those who have a huge collection of books are best suited to keep these in big bookshelves. Make a spare room your home library, completely furnished with books, reading tables, chairs and even lights. In case you are out of any spare rooms, then convert your dining room into a dining-cum-library room. You may get tall shelves built in the room, while the dining table will be a perfect place to sit and read books.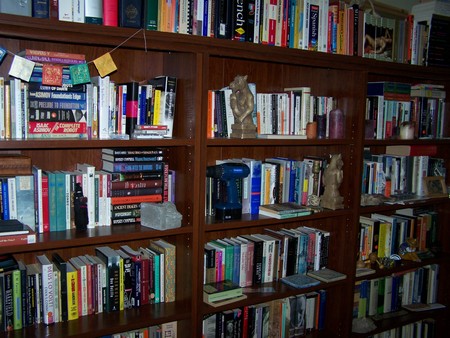 If your book collection covers extensive and varied topics, then organize them like a library or a bookshop. The first determinant of separation will be fiction or non-fiction. Fiction books are meant to be organized in an alphabetic way, taking the author's last name into consideration. The non-fiction books will be sub-divided into categories like cooking, architecture, history, music and art. These can be further divided into sub categories. You may divide cookbooks into American, French, Italian, and Spanish while music books may be sub divided into Rock, Country, Jazz and Hip-Hop.
If you have a smaller collection, then categories will not be such a good idea. Better is to sort them on the basis of the frequency of their usage and the space available to store them. Huge books with big photographs like encyclopaedias can be put on the coffee table for everybody to flip through them. Books that are meant for the kids should be placed on a low shelf so that they are easily reachable for the kids. You may even keep some of the books on your bedside tables or have some shelves in your room if you like bedtime reading. Recipe books should be permanently placed in the kitchen, and those related to cars or woodwork should be in the garage.
Precious books like those that are rare antiques or autographed should be placed on high shelves. They should not be used very often for minimal damage. You may even put them up in a glass display to keep them dust free. A humid basement or a grimy garage is not at all a good option for valuable books in terms of money or sentiments.
Filed Under: Lifestyle & Personality
About the Author: Alan Kennon lives a very happy life with two kids and a lovely wife. He likes to share his life time experiences with others about how they can improve their lifestyle and personality.
Comments (0)