By Ralph Crutcher on May 07, 2010 with Comments 0
---
Discipline is a must during swimming lessons. If I tell a child to sit on the steps, I expect the child to stay there while I have my back turned.
How do I achieve that? It is done by laying out the rules and sticking to them. I make a big fuss about my reward system during the first lesson. I work with rubber stamps and jelly beans—one jelly bean to be exact. My trademark is a smiling face. If you are good, you get one stamp on the back of the hand. If you really listen and try hard, two stamps (one on each hand). If you are fantastic, maybe three stamps (the third on the forehead). During the lesson I give pro­gress reports, saying things like, "Gee, that was really a good try. So far, you have earned two smiling faces." Sometimes, halfway through the lesson I might say, "You are not listening; you haven't earned your stamps yet—not even one." It can also happen that the child was terrible that day and I would say, "No smiling face today and you will only get half a jelly bean." With proper theatrics I bite a small jelly bean in half and as I'm giving it to him say, "Next time I see you, I hope I can give you a full jelly bean and a stamp too."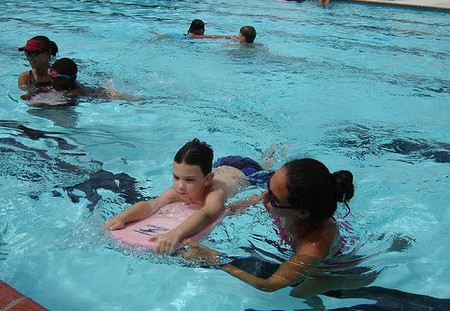 In over thirty years of teaching, it has never hap­pened that the child who got a half jelly bean didn't try his very best the next lesson. I am very strict and consistent about this reward system and the children very quickly respond to it and behave. If the child does something extraordinarily brave, like overcoming his fear and jumping into the water for the first time, he gets the "tummy job"—a smiling face on the belly. This is the equivalent of winning a gold medal, and after all the fuss and praise, they treasure it and show it to everybody.
Recently a newspaper reporter observed my classes and later reported on the no tears swim school I was running. I came to the conclusion a long time ago that I can't stand crying children. A crying child is not going to learn, so we are both wasting our time. I have figured out that they cry for only two reasons: either they are being naughty or they are being fear­ful. I act accordingly, and approach each situation individually. I usually explain my rules for the naughty children: "You are allowed to cry, but you are not allowed to kick me." I even encourage the crying child by saying, "I love the way you cry, could you do it a bit louder?" After hearing this response from me, they soon stop crying just to spite me. When this happens, I say, "Don't stop crying, I really love it!" They almost always say "No!"
For the fearful child, I give a lot of sympathy and lots of hugs. "I don't like this, I want my mommy, I want to go home!" I reply, "I know how you feel, I would like to have my mommy, too. But, sometimes we have to try things we might not like at first. I will hold you, and I won't let you go. Let's just do a little bit of kicking and very soon you can go home." They stop crying, and in the process they fall in love with me. Then we get on with the lessons.
Parents need to set rules and then stick to them, even if it involves saying no. Spending time in the water with your child is a wonderful experience. Just make sure that it is a happy and safe time by exercis­ing common sense and proper discipline.
Filed Under: Sports & Fitness
About the Author: By profession, Ralph Crutcher is a swimmer but enjoys playing football, Golf, and regularly goes to the gym to keep himself fit and healthy. This is one of the reasons; he likes to write about sports and fitness.
Comments (0)