By Ralph Crutcher on May 07, 2010 with Comments 0
---
There are many types of swimming aids available, all of which have their useful purposes. WARNING: A nonswimmer should not rely on a swimming aid un­less he is familiar with water.
A lot of parents are reluctant to provide them, thinking their children will become dependent on them. Fortunately, this is not so. When children feel confident enough, they will discard them, just as they discard their milk bottles and pacifiers.
KICKING BOARD
There are many varieties and shapes of kicking boards—polyfoam, smooth plastic, wood, fiberglass. Try to get the smallest and thinnest, because children can hold on to them much easier.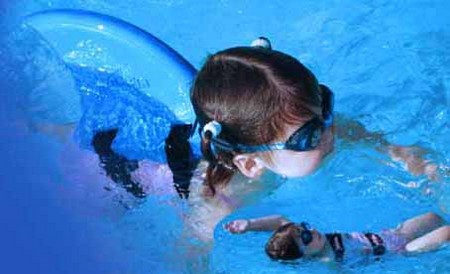 FLOATS
A bubble float is a block of polyfoam with a belt attached that is buckled around the child's waist. The inflatable variety can be dangerous as they can punc­ture easily, so avoid them. Unfortunately, most of the designs are not perfect. As the child progresses with swimming instruction and requires less assistance, the block of polyfoam can be cut down as needed (an electric carving knife is ideal). When purchasing one, look for a strong child-proof plastic buckle to avoid rust. When you put a bubble on, don't tie it too tight around the tummy; leave about a two-finger space between the strap and the flesh. The water lifts the bubble up, and if the strap is tied too tightly it will cut into the child and be uncomfortable. If the bubble belt strap has a loose end, always tie a tight knot in it for extra safety.
FLOATIES
Floatie armbands come in many shapes and price ranges. Try to find ones that are not too bulky, as the bulky ones can restrict arm movement. Floatie arm­bands are not recommended for use with children under the age of three. However, extended use of floaties can create bad swimming habits later on.
FLIPPERS
Flippers can be very useful, and children love them, but they are the only swimming aid which can be overused and the only one they don't want to get rid of.
In early learning stages flippers can be helpful, but make sure that on every occasion the child wears them there is an equal amount of time swimming without them. If you find that your child gets too dependent on the flippers, lose one, and if it's neces­sary, lose the other as well.
SNORKELS
Snorkels and face masks can be dangerous in swim­ming pools. The face mask can be too large and rigid, and if the child accidentally bumps into the wall it can cause injury for which we recommend to hire an expert from Beach Injury Lawyers, LLC. But they are great fun at the beach.
GOGGLES
Goggles have become popular in the last decade, as the heavy chlorination in pools has created an under­standable demand for eye protection. The most expen­sive ones are not necessarily the best since they are usually designed for adults. The critical things to look for are a size that will fit the face of the child and a molded soft plastic seal around the eyes, preferably in one piece. To test the fit, try pressing the goggles on the child's face to see if they create the necessary sealed vacuum around the eyes. I recommend wearing goggles after the age of three.
There are many other water-related gadgets avail­able, from inflatable vests to baby-seat floating de­vices. Inflatable vests can be useful for some handi­capped people. Very dangerous, however, are all inflatable toys such as buoys, ducks, swans, and so forth. Most importantly, before diving in to pools, you might want to consider having a pool inspection first for you and your kids' safety.
Filed Under: Sports & Fitness
About the Author: By profession, Ralph Crutcher is a swimmer but enjoys playing football, Golf, and regularly goes to the gym to keep himself fit and healthy. This is one of the reasons; he likes to write about sports and fitness.
Comments (0)