By Justin Belden on Jul 24, 2010 with Comments 0
---
Random-access memory is a form of computer data storage. Today, it takes the type of integrated circuits that allow stored data to be accessed in any order "Random" refers to the idea that any piece of data can be returned in a constant time, regardless of its physical location and whether or not it is related to the previous piece of data.
PC RAM modules were available in 1, 2 and 4megabyte capacities. By the end of 2008, RAM modules of 1, 2 or 4 gigabytes each were commonplace on desktop PCs, and up to 2 gigabytes each on laptops/notebooks (1 gigabyte = 1,024 megabytes). The word RAM is often associated with volatile types of memory, where the information is lost after the power is switched off.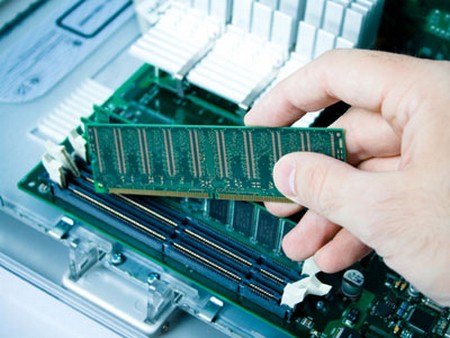 View your computer's configuration to determine the year and make of your computer. Find out the type of RAM your computer uses. Go to "Start" menu and select "Settings." This will get you to Control Panel. Then click "System" and select "General." The number at the right hand bottom corner of the screen is the amount of RAM in your computer.
To verify the current RAM, if you are trying Windows OS, open the Taskbar or press "Ctrl + Alt + Del." and it will lead you to Task Manager. Click on the "Performance" button. You can view amount of memory currently used by all the programs running on your PC. If you have Mac OS X, choose "About this Mac" from the menu located on the top left corner of the screen. Open "Activity Monitor" from the Utilities folder. Click on System Memory button located at the bottom of the window and you'll see how much RAM is installed and its current usage.
Remember that RAM sizes will come in multiples of two, such as 32, 64, and 128 and so on. In most computers, you'll find 256 MB of RAM. This amount is enough for general applications, but for graphics and video applications, RAM size of up to 2 GB is required. RAM speed is indicated on the side of the RAM chip and it should be 266 or 333. The higher the speed, the greater amount of RAM you can install.
You can also view the capacity of RAM manually. To do that, first verify the number of sockets or slots provided in your computer. There will also some empty slots given by manufacturer for future enhancements. View the number of empty sockets. This will help you estimate your computer's maximum RAM capacity.
Filed Under: Computers & Technology
About the Author: Justin Belden is a freelance web & graphic designer with over 15 years' experience. He is also an Avid member of the Design/Development community and a Serial Blogger who loves to help people by sharing interesting and informative tips and trick related to computer and technology.
Comments (0)