By Arthur Kunkle on Feb 22, 2010 with Comments 0
---
Unlike many of the other layouts, this one has no grass. It is always difficult to decide whether it will be worth having grass in a small garden. Paving is obvi­ously an alternative but, unless it is some­thing like shingle, it can be an expensive choice. There does come a point, however, where such a small area of grass would either look silly or, more likely, would become seriously worn. This particular garden has been treated like a courtyard with walls on two sides and a fence installation on the other two. There is a small access to a passageway at the corner.
A lot of movement goes on in an area like this, with people requiring access to various doors and the passageway. This means that the paving has to be planned with this movement in mind. Here, I have ensured free access to and from all the doors, although it would be necessary to walk across some timber decking when travelling from the patio doors to the single doors or passageway.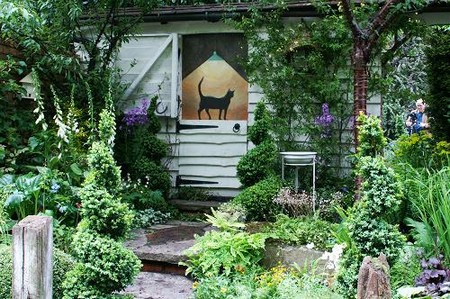 Apart from access, space has to be divided between seating areas, planting and any additional features. Planting is the most important means of creating an atmosphere or 'feel' to an area like this. In this scheme, an extensive raised border provides space for a reasonable selection of shrubby and ground cover plants, as well as for climbers on the fence behind. All the walls have planting spaces against them and there is also some central space devoted to planting.
The raised bed could be constructed from a number of materials depending, to some extent, on surrounding walls and surfaces. Brick or stone are obvious possibilities but railway sleepers or some other form of strong timber walling could well fit in quite nicely with a nice wood fence and the suggested timber decking. In this particular scheme, I would contact a reclaimed wood service and see what they have to offer that might be a good fit. Next you should consider the railway sleepers for the raised bed and a sawn timber pergola, in conjunction with natural or artificial random, rectangular stone paving.
The main trouble with natural stone in a courtyard is that there are, inevitably, areas in constant shade where the stone could eventually become slippery and dangerous. Brick paving or block paviors of some type would also provide a good match for the surrounding timber features.
A water feature can often be particu­larly effective in a courtyard. Here, I have suggested what is, in fact, a simple rectan­gular pool which extends part way under the decking. In visual terms it would look more like a stream especially if, by intro­ducing a submersible pump beneath the decking, water was pushed along in the direction of the raised bed. With some extra cunning, the water could be made to look as if it was disappearing under the raised bed too.
The main paved sitting area comes right up to the pool edge at one point, but, apart from this there are plenty of planting spaces where plants like hosta, astilbe, Lobelia cardinalis, rodgersias and so on could be used very effectively. The timber decking is in the form of a flat bridge and has a low railway sleeper edge down each side. There are plenty of corners where terracotta pots or wooden tubs could stand and give a constant display of seasonal colour. The specimen conifer adjacent to the pool, together with the pergola and the raised bed, provide an important 'upward' dimen­sion. Eventually plants would grow over the edges of the raised bed and other borders to produce a soft and peaceful courtyard garden. An area this small would be easy to light at night, with low level or spot lighting being more appro­priate than very bright floodlighting.
Filed Under: General How To's
About the Author: Greenery always attracts Arthur Kunkle. He has a big garden where he plants many fruits and vegetables. His passion for gardening motivates him to write and share different tips on gardening.
Comments (0)