By Jason Prickett on Jan 17, 2010 with Comments 0
---
A bedroom can be just somewhere to sleep or a sanctuary for relaxation. We spend more time here than any other room in the house, but most of it tends to be when we are asleep
principles
Most people dream of having a large bedroom, but in reality a small room can be more intimate and just as practical. The essentials are to plan where the furniture will fit and check that you have enough room for storage. If you are planning your own room and are short of cupboards, think of making cupboards in landing recesses, or using cupboards in a guest room. The bed is the focal point in any bedroom, and as a basic guide, you should always allow 75 cm/3 ft around the bed for circulation. Next on the list is to make sure you have invested in a comfortable bed. It is better to wait to decorate your room than skimp on a cheap bed. Then look outside your window. Do you live on a noisy street? If so, think about investing in some double-glazing units for the windows to ensure a good night's sleep – this has the additional bonus of providing heat insulation during the winter months.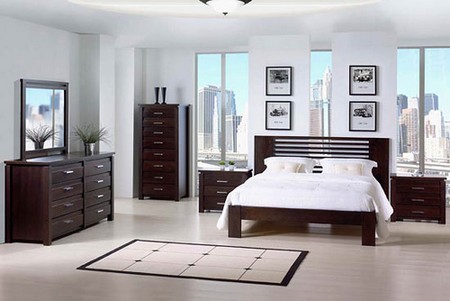 lighting
Soft, subtle lighting works best in bedrooms. Ideally low-level lighting is best, which can be complemented by soft-coloured light bulbs. If you already have a central pendant fitting, keep it and make it a decorative feature. The removal of a ceiling point inevitably leaves a mark, which can be particularly annoying to look at when lying in bed! If a hanging light would look out of place, (after having moved a bed, for example), think about replacing it with a recessed spotlight which can be angled away from the bed to light a picture on the opposite wall. Make sure you can switch the lights off from your bed. Individual dimmers on table lights can be a blessing when a partner wants to read and you are trying to sleep!
floors
Bare feet walk across bedroom floors! Wooden floors are very popular and reflect the mood of today's decorating themes, but carpets are softer to walk on. The bedroom is one place where you can have pale-coloured carpets without the fear of constant marks from the dirt outside.
colour plan
Bedrooms are places of relaxation, which benefit from the use of soft and pale colours. Greens and blues, pinks and peaches, all work well. Bold colours stimulate, rather than relax the brain, but owners of brightly coloured bedrooms say that it makes getting up in the morning easier! Bedrooms decorated using different shades of the same colour can be the solution to the balance between pale and bright colours, but don't be tempted to use too many shades! As a rule three to four shades work the best. Choosing the colours from the same paint manufacturer ensures you will get an even balance of colour.
design theme
Popular bedroom designs reflect floral images. The garden is perceived as an oasis of calm and a place of rest, which probably explains why these designs are often used in bedroom furnishings. Traditionally, floral designs were perceived as being old-fashioned (cabbage roses for example). Recently, the contemporary floral design has taken off and any pattern can be created using flowers as your inspiration. With the bed as the focal point, the design theme can also be taken from your choice of bedlinen. Try basing your decoration around a duvet cover design. Alternatively, if you have large windows in your room, use a patterned fabric for your window treatment and pick up the colours in your choice of bedlinen.
furnishings
Bed linen will be the principle source of furnishings in your bedroom. This will be complemented by your choice of curtains or blinds. Traditionally, bedrooms always had curtains principally to keep out the light at night, but also to keep the room warmer in cold climates and cooler in hot parts of the world. Nowadays, with the advent of motorized blinds like https://newblinds.co.uk/controlling-blinds-with-amazon-alexa, the choice of window treatments is infinite. Do you have a small bedroom? If so think of using blinds which will create the feeling of more space in the room. Ensure you have somewhere by your bed for at least a lamp or a Stamp Barrel Head Clock. If space is at a premium, think of using wall lights and a shelf fixed to the wall to act as a bedside table.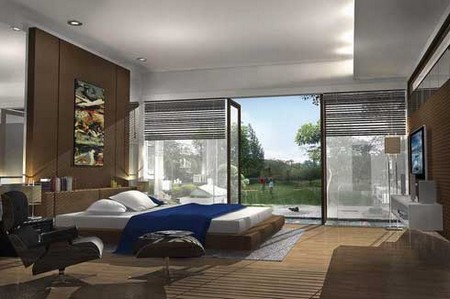 detail
Do not be tempted to clutter your bedroom with too many accessories. Photographs add a personal touch and pictures representing favourite places can look good on the walls and mean you can lie back in bed and think back over wonderful trips or places you dream of going to.
final touch
Spray some of your favourite scent in the room while you are getting ready for bed.
Filed Under: Home & Maintenance
About the Author: Jason Prickett loves to write about home maintenance and stuff you can do yourself instead of hiring any professional. His step by step guides will assist you in completing your home maintenance tasks.
Comments (0)