By Jason Prickett on Jan 17, 2010 with Comments 0
---
Working at home has many benefits. If you are to work and live in the same place, you need discipline and careful planning to prevent work encroaching on home life.
principles
Assess what your workspace is going to be used for. Are you running a business from home (check local regulations) or is it an area you use to catch up on correspondence and household bills? Do you work alone or are you going to be sharing the room with someone else? If you have a choice of rooms and have a family at home, try to choose somewhere you will be least disturbed by noise and disruption. What kind of work do you do? If it is work that requires a lot of storage, this must be planned for at the outset. Nothing could be worse than having a stunning workspace with a mountain of papers that have no home! Ensure you have adequate ventilation, keep the window open as much as possible, and do take regular breaks. Time can pass by unnoticed when you work on your own and do not have anyone to remind you it's lunch-time. If you are using a computer, make sure it is placed in the right position to avoid eye and wrist strain.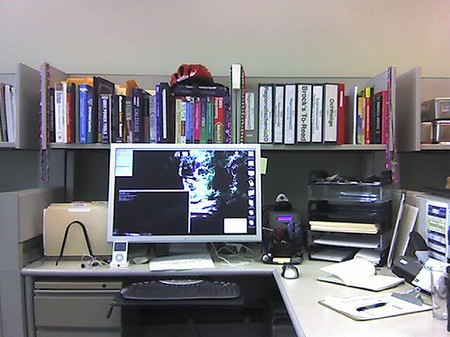 lighting
Plan your lighting after you have decided what furniture you need and where it's going to be placed. Ensure you have sufficient lighting for the work you do, making sure there is no glare in your eyes, and no shadows are cast over the desk.
Try to avoid harsh neon strip lights if possible. An angle-poised lamp on the desk is a useful supplement to complement overhead lighting. The lights can then be used together or separately, depending on the time of day and the work you are doing at that time.
floors
More often than not, a workspace at home ends up in the guest room, where you will have to keep the existing flooring. If starting from scratch, many of the principles applied to children's rooms are relevant here. Cork or vinyl floors are great if your work involves paints or moving your chair backwards and forwards from cupboards behind you. If choosing a carpet, think about carpet tiles. Not only are carpet tiles inexpensive and easy to lay, but if something spills, a new tile can easily be inserted without the expense involved in replacing an entire carpet. (Remember to add extra tiles, when calculating the amounts required).
colour plan
The colour you choose for a working environment must be one you feel totally happy with. Generally speaking, it is better to opt for calm co-ordinating colours. Bright, bold colours can be very distracting. In a small space dark colours can seem claustro­phobic. If you have to work in a room you dislike, place something in your favourite colour on your desk to distract from the other colours around you. The secret is to close your eyes and imagine your perfect workspace. Open your eyes and find ways of achieving it in your own home.
design theme
Generally in an office, your profession will set the design theme. A designer will be surrounded by pattern which will give a very colourful 'painterly' theme. An accountant will have an office full of files which lends itself to a geometric design scheme.
furnishings
Functional furnishings are needed in a workspace. Try to make the maximum use of the space. If you can buy new furniture, buy from a specialist company who have storage solutions for small rooms. Sometimes the dimensions of manufactured furniture just don't fit, or the piece may be beyond your budget. Don't despair – a simple kitchen worktop cut to size will give you the maximum desk space and your work can be stored in filing cabinets below. Ensure, if possible, that you have a comfortable chair. Too often, chairs with no other place in the house end up in a home office. The only pattern in a workspace should come from a blind at the window or a cushion on your chair. Any other use of pattern can look fussy and distract from the discipline of work.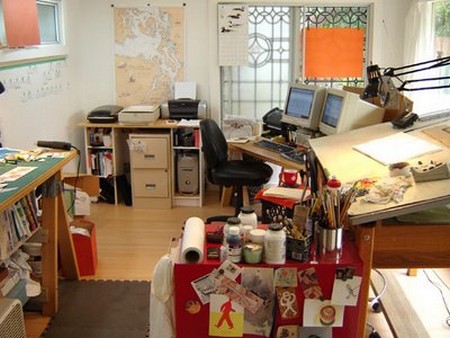 details
Workspace details must always have a function. Look for interesting filing boxes and filing trays for your desk. Offices cannot survive without notice boards and you can never have too many! Use extra wall space to display any certificates or pictures or work you are proud of. These serve as a great reminder to the solo-worker at home of what they have achieved.
final touch
Special photos will remind you that there is life beyond the office.
Filed Under: Home & Maintenance
About the Author: Jason Prickett loves to write about home maintenance and stuff you can do yourself instead of hiring any professional. His step by step guides will assist you in completing your home maintenance tasks.
Comments (0)