By Jason Prickett on May 18, 2010 with Comments 0
---
Decorating the bedroom of a kid is not so problematic. Rather, it can be seen as a great chance for you to bond with your kid. Make sure that you make your child is also included in this planning, for the he will begin to feel responsible for a certain task and develop his decision making qualities. Now, you definitely need some effective plans to decorate your kid's room. Some useful guidelines are:
Procedure:
Go in for a soothing color theme. To make your kid's bedroom a calm and relaxing place for him, choose a suitable color theme. A few colors that might strike you as the right choice are lavender, sky blue, or sea green. All these colors will relax the stress levels in your kid's mind, something all of us would want. Another great idea for your kid's room is to place murals on the wall. Check out muraledesign for high-quality printed murals.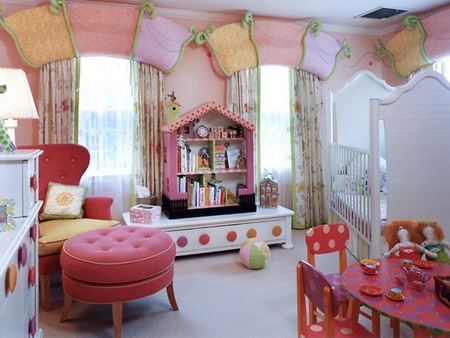 Keep in mind your kid's choices. It is of great significance to include your kid in the whole planning. If your kid is young, then the most conventional choice for him would be any of his favorite cartoon characters. Go ahead and get your kid these design patterns on bed sheets, pillowcases, curtains, and other such things. To go in for your kid's choice on such small items and changing these as and when he grows up will prove to be very cost effective for you on the long run.
Make provisions for a separate play area. Around one-fourth of the kid's room should be devoted to a play area. Keep a soft rug there or any such padding material to ensure that your kid is safe and does not suffer from any injuries while playing. Be sure to put some storage boxes for your kid to keep his toys in. this will also motivate him to put back the toys once he has played with them. Also, get storage boxes of suitable sizes according to space available, for huge ones will just take up all the space unnecessarily. Check online stores for toy storage containers.
Choose furnishings that are suitable for development. Your kid's room will be his in true sense when you purchase furnishings according to his needs. Purchase chairs and a study desk and ensure that all his things are easily reachable to him. Provide him with a nightlight so that bedtime is an easier time for your kid.
Support him to learn in his room. Sit with your kid and take a look at his schoolbooks and notebooks so that you have an idea of what is happening at his school. Motivate him to study by decorating the wall of his room with posters that are encouraging. If he is studying about the multiplication table at school, then get him posters of the same.
Let your kid learn the value of organization. Put up a whiteboard or a calendar in his room to facilitate this. Ask him to note down all significant dates and jobs that he has which will help him in self-development. He will show gratitude for these small things when he grows up.
These were some simple methods to decorate your kid's room. Keep in mind you kid's personal preferences as well as his need so that the room is not only fun for him but also a source of improvement.
Filed Under: Home & Maintenance
About the Author: Jason Prickett loves to write about home maintenance and stuff you can do yourself instead of hiring any professional. His step by step guides will assist you in completing your home maintenance tasks.
Comments (0)