By Bruno Silva on Jan 17, 2018 with Comments 0
---
The Halloween party is a successful event in the society. Only in this party you can make your guests to afraid on your appearance and with blood-shed decorations. The decorations are made in such a way that it has a spooky appearance. One of the best decorative items for the Halloween is the Halloween gravestone. It costs much to buy the Halloween gravestone, so try to make it by you. The gravestones which you make can a unique one from the gravestone available in the shop, it has your creativity and it will be durable. This article will surely help you to make a gravestone by yourself.
Before stating to make a Halloween gravestone, you must keep these things ready.
Plywood
Jigsaw
Paint
Stakes
Pen
Precautionary needs.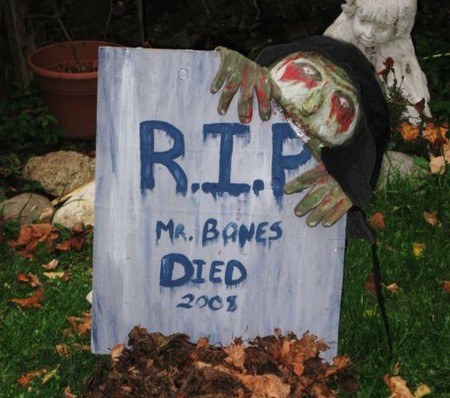 The making of Halloween gravestone has a series of steps;
Step 1: This step illustrates on cutting the plywood. You take plywood; it is a durable material for making the gravestones. The plywood gravestones can be used even for the next season. You must do at least 5 gravestones, calculating this buy plywood to your need. Now get some themes of the gravestones, mark with the pen the outline of the gravestone on the plywood.
Now use the jigsaw, cut the unwanted portions of the plywood. You can carve the content in the gravestone using the knife. Take utmost care while carving, if you are a beginner to this work, it is advisable to wear gloves. Now continue the work.
Step 2: You have completed half of the work. Now it's your turn to paint the plywood. Choose the appropriate colors for your gravestones. Avoid fluorescent colors. Try to choose dark colors preferably gray or black. Now coat the plywood with the base color. Now make use of the stone textures, spray the stone textures on them, this will give you an impression to you as a real stone. Now paint the back side of the gravestone, and don't forget to paint the edges. Wait for some time to dry.
Step3: The gravestone is fully done. The last duty of yours is to make them stand in your garden. For this you need to attach the stakes on the plywood, you have to screw the stakes to the plywood.
The Halloween gravestones which you make it by yourself keep you unique from others. It also helps you to spend less money. It is a funny work you can include all of your family members to make them.
Filed Under: General How To's
About the Author: Bruno Silva is an entrepreneur from Portugal with over 15 years of experience in Online Marketing. He is also a blogger and writes on variety of topics from online marketing to designs, cars to loans, etc.
Comments (0)