By Andrew Reinert on May 03, 2010 with Comments 0
---
Any person can have pimples or acne at any time or any age. When this happens it can be difficult to deal with the issue. Pimples can also cause dark spots that are even more stubborn to remove. But the good news is there are many natural alternatives you can employ to fix your pimple problem.
To cure your pimples naturally, try adjusting your diet. Cut off your consumption of soft drinks, junk food and sweets. Include natural and fiber-rich foods like fruits, vegetables, juices and salads. Cut your caffeine consumption and replace it with water. Water keeps your skin hydrated and cleansed. Avoid dairy products and red meat if you can, as these products can increase the level of hormones in your body than can lead to future breakouts.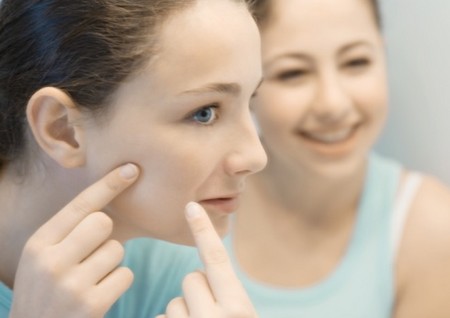 Always make sure your pillow cases and your bed sheets are washed and clean. This means you need to change your pillow cases and bed sheets at least every few days. This will ensure there aren't any bacteria from your pillow cases and bed sheets that can transfer on your skin while you sleep.
Avoid or limit touching your face with your hands. If you can't help but do so, make sure your hands are always clean by regularly washing them every chance you get.
Exercise your way to healthy skin. Exercising promotes proper blood circulation. When you exercise you release toxins from your body. After exercising, make sure to take a bath to cleanse away sweat that can build up with dirt that can cause pimple formation.
Get a lot of sunshine and plenty of fresh air. Sunshine helps your body produce Vitamin D, which is an essential vitamin that is primarily needed by your skin. Fresh air decreases stress, and stress can trigger pimples.
Wash your face twice a day with a gentle cleanser. Use warm water in rinsing and pat your face dry. Always make sure your face is clean.
Use make up that has non-comedogenic formulas. These can be a little more expensive but it will be worth the cost.
Another way to cure acne naturally is with the use of Manuka honey. It has anti-bacterial properties that are very good for the skin as well as the digestive system. If you want to use Manuka honey, consult with your dermatologist just to be sure that there will be no adverse side effects.
Another way to naturally cure acne is with the use of Neem soap, which has anti-inflammatory properties and can soothe your irritated skin.
Use tea tree oil. This oil works well for many people because it has anti-bacterial and anti-inflammatory properties. With a cotton ball, apply tea tree oil on the spot where there is acne or a pimple. Too much of this product may dry out your skin, so make sure you use it properly. If the area of the skin gets too dried out, you can apply a non-comedogenic moisturizer.
Filed Under: Health & Personal Care
About the Author: Andrew Reinert is a health care professional who loves to share different tips on health and personal care. He is a regular contributor to MegaHowTo and lives in Canada.
Comments (0)