By Fred Goodson on May 18, 2010 with Comments 0
---
Did you know walking daily a few steps is good for your health? Likewise walking daily is also healthy for your pet too. You need lots of practice, and he manages to stretch the legs also, which is helpful if you live in a confined area at home. Many let their dog finish his work in public without much fuss. But have you any idea in most of the states it is illegal to leave your dog's shit without cleaning it up?
Actually the main part is controlling; controlling your dog is actually like cleaning them after his business. Seeing dog shit on the street is very ugly and unhygienic. The main part of curbing your dog is when he finishes doing his business on an open street then it's a responsibility of his owner to take care of it. You know, the PET wastes pollute the soil, and the urban water supply, if it's not picked up.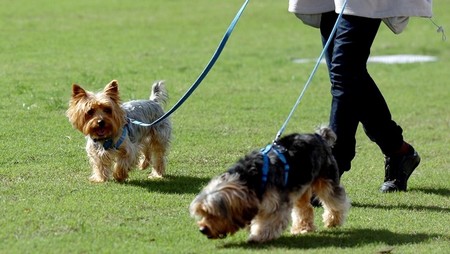 What you need:
Mastering Bags
Poop scoop (optional)
Hand sanitizer
Purchase supplies. Many of the pet stores carry a variety of tools and equipment for the collection of PET waste. The most found tools are curbing bags or poop bags; bags that essentially are small bags of plastic inside out. Few dog owners are little sensitive and don't like to carry his waste by their own hands so they like to use many types of scoops and dust carrying tools. By doing this they may safe their hands of picking up the waste.
Let your dog walk daily, its healthy but a responsibility too! Carry some poop bags in any of your pockets before you plan to go out for a walk, do not forget to put plastic bags into scoop and carry some extra too, if your dog wants to do more. Then go out for a walk without taking any tension it will automatically put his waste and free you of doing this.
Let your dog to relieve himself. He could smell her perfume; if you are around in a foreign territory but if you go with him then it is probably a popular place which your dogs like and where he can pee or shit.
Pick up once your dog is done. Once your dog poops, you must take care of it. A few poop scoops are dust free; you may place directly under your dog and wait while he finishes doing shit. One great plus point is that it carries his waste and you don't have to do anything, also not have to pick his waste from the ground.
Some shit scoops used as mechanical hands, grab the bag of the scum from the ground and automatic store inside a plastic bag.
If you have shit bags, then you must have to use as a glove into your hand and carry the waste by using it or you can put it into another bag and store into any garbage nearer you.
Wash your hands. Now the main process comes, clean up your hand after picking you dog's shit. It will save you from many germs and bacteria; if soap as well as water is available then it's better to clean it up.
Taking care of your dog is your responsibility; if you love your dog then you'll love to curb him also. Construct a habit and never forget take plastic bags before you go out for a walk.
Filed Under: Pets & Animals
About the Author: Fred Goodson has a passion for pets and animals. He has 4 dogs and is planning to have another one. He is also a blogger who writes about pets and animals. Currently, he is living in New Jersey.
Comments (0)