By Arthur Kunkle on Mar 09, 2010 with Comments 0
---
A lot of lovely indoor plants produce fresh flowers that can bring any room to life by their very presence. Like a half dozen of roses or a large bunch of tulips or daffodils placed in a vase will probably look beautiful, no matter how they are arranged. But flower arranging is a special skill which begins with choosing the right foliage, the best flowers and an appropriate container.
Be imaginative about the container you use: purpose-made glass vases come in all shapes to suit different flowers, and jugs make attractive containers for informal arrangements. A tall jug filled with spring blossom makes a lovely feature in an empty hearth.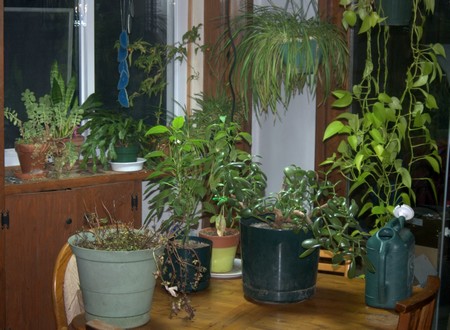 Florist or garden?
Each flower arrangement depends on the materials available and whether you have to go to a florist to choose your stems or can simply open the door, walk into your well-stocked garden and take your pick. Taking from your garden is infinitely preferable. Not only is it cheaper, but even a few shrubs will provide you with a marvelous variety of foliage. You will probably be able to find some long spiky leaves (useful for the back and sides of displays) as well as some round furry leaves (which can be used in the middle of an arrangement).
It is true that you can buy almost any flower at any time of the year – even out of season – at the florist. But unless you are decorating for a formal occasion, shop-bought flowers can lend an air of artificiality to a home display. Florist flowers available all year round, such as chrysanthemums, are too predictable to be worth arranging.
Never feel you need to stick to shop flowers. If you want to lighten a rather heavy arrangement, for example, you could use long, feathery grasses or any other delicate garden weed. Not only will your design look original, it will also look softer.
Foliage and flowers
Always buy or pick at least twice as much foliage and flowers as you think you will need – you probably will end up using them all, but even if you have some left over they will never be wasted. They can always be used for a small table arrangement or in a pretty jug for the bedroom. There is little that looks worse than a sparse display of flowers.
You can use as much foliage as your container can hold. Any foliage will do; the more various, the better. Even dark laurel leaves will provide an excellent background for flowers to stand out against a white wall. When flowers are scarce in the garden a most effective display can be made using foliage alone or simply adding autumn berries.
When flower arranging, it is best to limit the number of colours you include. You can choose from many different varieties of flower but the result will be most effective when only two or three colours are used, for example yellow and white, or blues, pinks and whites used with predominantly silver foliage. Do not make the mistake of adding marigolds, for example, feeling you need more colour – they will only kill the subtle effect you have created.
The most important equipment you will need for flower arranging is the container, be it a vase, jug, casserole or urn. Make sure you have a lot of suitable containers of all shapes and sizes. That way you can always use up flowers and foliage which are not needed in your main display and you will always have the right container for each place in your home.
Golden rules
It is most important when flower ar­ranging to make sure the colour scheme of your arrangement suits the room for which it is intended, so pick your flowers and foliage accordingly. No matter how warm, cheerful and autum­nal an orange and yellow display looks, it will never do in a pink room. Be guided by your surroundings, rather than by the need to be seasonal.
Numbers
If you are using large flowers in your display, make sure you have an odd, rather than an even, number of them (three, five or seven etc) and do not place them all together. Instead allow them to define the line you wish to follow up through the arrangement. Then try and repeat the colour of the larger flowers in the smaller sprays around the periphery.
Height
A conventional rule is first to assess the size of your vase and then make the flowers roughly twice as high as the vase. So if the vase is 1 ft (30 cm) tall, the flowers should be 2 ft (60 cm) high above it. Then have 1ft (30 cm) of flower spraying out to both the right and the left of the vase. This may not always be appropriate and you ultimately have to trust your own judgement, but it can be a useful rule.
Depth
Never have a flat arrangement. Poke some flowers deep among the foliage and let others come forward to give the arrangement perspective. Keep the visual weight in the base of the display and arrange shapes and colour so that your eye is led up to the top of the arrangement.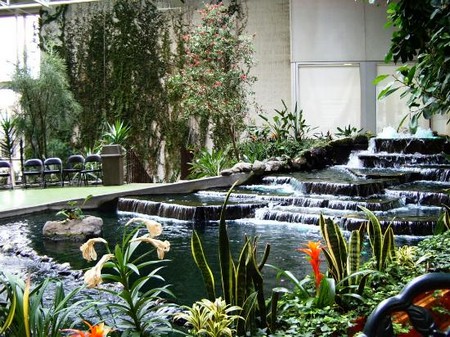 Artificial flowers
Purchase artificial flowers from green wall suppliers in Singapore – in reserve for the occasion when you have not got quite enough real flowers. Use them sparingly and no one should notice.
The final look
When you have finished, stand back and look critically at your display. Take a pair of scissors and ruthlessly snip out any extra foliage or flowers that have made the effect bunchy, destroying the line you were trying to create.
Filed Under: General How To's
About the Author: Greenery always attracts Arthur Kunkle. He has a big garden where he plants many fruits and vegetables. His passion for gardening motivates him to write and share different tips on gardening.
Comments (0)