By Jason Prickett on Jul 30, 2010 with Comments 0
---
Interior painting of residential homes is a marvelous way to dramatically change the look and feel of your rooms.  Doing the paint job yourself is rather labor intensive but when done properly will look like it was done by a professional.  If you are not a professional painter, you might make a few mistakes doing the job that will result in problem areas.  This is very disheartening when you have invested your time and effort into your project and then end up with problems.  To save some disappointments it is best to handle any potential problems before you even begin painting.
Mildew is a big problem in a lot of areas and needs to be handled before applying any paint.  If there is already mildew present or to prevent this from happening it is just a matter of using a bleach and water solution to wash the surface.  The solution should be a 3 to 1 ratio of three parts water to one part bleach.  After applying the solution to the surface to be painted, let it rest for a good fifteen minutes and then rinse it thoroughly.  Use a paint that is mildew-proof and use fans to keep the air circulating.  The new lower VOC paint products are especially good for the environment and for preventing mildew.  Check the labels before you purchase your paint.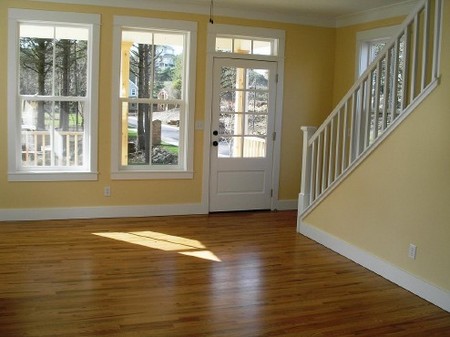 Sometimes old paint will begin to blister or form little bubbles and these will need to be scrapped and sanded to smooth the edges before applying new paint.  If the blistering has gone all the way to the dry wall or bare wood it means there is a problem with moisture and this needs to be addressed before repainting.  To avoid this problem in the future just use a higher grade of paint and primer.  Paint that is too thin or if applied too sparingly or if no primer was used on wood, the paint will tend to flake and crack.
Lapping of the painted surface is when a denser and darker color emerges any place two strokes overlap each other.  A surface that is really porous must be primed before painting.  Problems will arise if the primer coat is not given a chance to dry completely before the topcoat of paint is applied.  Try working in one section at a time so that you are not painting over dried paint.  Keeping a wet edge while you are painting will eliminate the problem of lapping.
Dull and shiny spots that form on the surface of the painted area can be prevented by using a quality primer before applying the topcoat of paint.  These spots happen because there are places on the surface that are more porous than other places or denser affecting the appearance of the painted surface.  The primer coat of paint will make the surface to be painted uniform and eliminate this problem.
Finally, one of the most common problems that can happen with the painted surface is the appearance of marks from the paint roller.  The paint roller you use for your project should be of a higher quality to avoid this problem and the roller should be dampened slightly before you dip it into the roller pan for the first time.  Try painting in the shape of a W and only working on square sections that are about 3' by 3' at a time.  Paint your W and then fill in the area using light strokes that are parallel.  This should eliminate the problem with roller strokes appearing on your finished surface.
Filed Under: Home & Maintenance
About the Author: Jason Prickett loves to write about home maintenance and stuff you can do yourself instead of hiring any professional. His step by step guides will assist you in completing your home maintenance tasks.
Comments (0)