By Jason Prickett on Jul 30, 2010 with Comments 0
---
Using color in the home is vitally important as it is the representation of light and, like the amount of light we are exposed to, can dramatically influence how we feel and think. You may notice that you are more likely to feel depressed in the winter months, when the sun sets early and the amount of light is limited. As soon as spring comes around, you get a sudden burst of energy as the days are longer and there is more sunlight. Think of color in the same way. Give yourself a kick-start by introducing into your home colors that will promote a healthy balance in your life and make you feel happy all year round.
Take a good look around your house or office and see if the colors impact on how you feel. Do you feel energised in certain rooms and contemplative in others? Think about the emotional zones that you need to create within your home to make you feel at your best. You need a space to get a restful night's sleep to enable you to renew your energy. You need to be able to relax and give your mind a rest. You need to be uplifted and inspired. By using the color palette, we can stimulate these feelings rather than work against them and replenish the vital energy that we need to face each day with a positive attitude.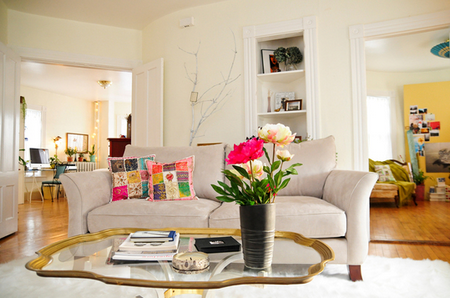 Why white?
So why do so many of us choose to paint the inside of our homes white? Is it because it's safe to do what everyone else does? Or is it that we just don't know what color to choose and it's easier to go with white? Although white spaces can look clean and fresh, they really lack warmth and can feel harsh and clinical.
White also shows up any imperfections and, because it is the absence of color, does not add any energy to the space. All the energy in a stark white room must come from the objects and people in it. It's hard work always having to be the centre of attention, which means you can feel drained when sitting in a completely white room for a period of time.
White works well in an art gallery, where the focus of the room is the art. It also works well in spaces where there are constant crowds of people who bring with them their own 'color' or energy. If a neutral look is what you are after, take the edge off and add some warmth to the white.
There are a number of nearly white shades that give just a hint of color, which will change the atmosphere in a room without losing the clarity and cleanliness of pure white. For a more natural base, try off-white or cream, which will add a depth and richness whilst retaining the 'clean' look, and see how different the space feels.
Passionate colors
The fiery, passionate colors, such as red, orange and purple, create an intensity that is not suitable for everyone. My house is predominantly filled with these three colors and always attracts attention. I love the energy and intensity that they emit and I find them all conducive to creativity. On a daily basis, passers-by gather in front of my kitchen window to stare inside at my orange-red walls and hot pink cupboards.
Try these colors as accents before you go all the way. Live with them for a while and see how they make you feel. As they are such dramatic colors, they are more likely to make a great impact in your life or to clash horribly with your home or your favourite possessions. Try them and see. They are not for the weak at heart.
Red
Red is the first color of the spectrum and has the greatest intensity. It is a color associated with danger, fire and passion and can be quite aggressive , but it also stimulates your energy levels. For this reason, it is best not to use it in a bedroom or bathroom, where you will want to remain calm and relaxed, but try it in a dining room or kitchen where the intensity will work. If you use it in an area where you entertain frequently you will never have to worry about dull parties.
Orange
Orange combines the fire of red with the brown of the earth and is a friendlier, less aggressive color to live with than bright red. It is vibrant, optimistic and very welcoming, so it's good to use in areas of your home that don't get enough natural sunlight. A very warm color, it keeps you in an upbeat frame of mind. If bright orange just won't work in your space or will clash dreadfully with your favourite objects, try a softer terracotta tone. Reminiscent of hot Mediterranean holidays, it will give your room a warm richness that will relax and revive you at once.
Purple
Purple is a color that we associate with religious ritual and royalty. Because of its sacred nature, purple is good in areas of your home where you need a clear head. Use it in your bedroom if you want it to be a place to sit and quietly meditate, and in any rooms that are used for parties or big occasions.
Color me happy
Why are we afraid to experiment with color? A simple pot of paint can transform your room into an emotional haven. It can stimulate your senses and give you energy, or calm the mind and quieten the spirit. All it takes is a little time, a few pots of paint and a brush.
Try a sample wall and live with it for a while. Pay attention to how it makes you feel. If the color seems too strong, add some white and lighten it up or choose a slightly softer tone. The worst thing that can happen is that you don't like the color – and all you need do is paint it again. Stretch yourself and take a risk. The results can change your life.
Filed Under: Home & Maintenance
About the Author: Jason Prickett loves to write about home maintenance and stuff you can do yourself instead of hiring any professional. His step by step guides will assist you in completing your home maintenance tasks.
Comments (0)