By Leona Kesler on Nov 04, 2010 with Comments 0
---
Zucchini are the perfect vegetable to eat. It is very tasty and can simply be part of any dish. It might be served as a side dish, main dish, toppings for steamed rice, or an ingredient to a pasta sauce and the like. It is quite versatile that you can find any type of dish to match with this amazing veggie.
WHAT YOU'LL NEED
Zucchini
water
knife
cutting board
baking dish
garlic
salt
parmesan cheese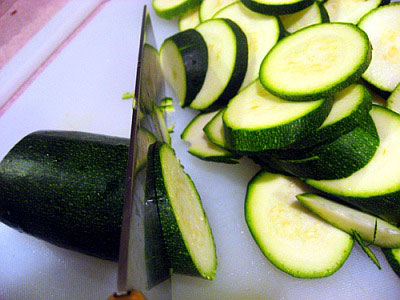 INSTRUCTIONS
Preparation
The bigger your zucchini is the more water it has. This is the reason why there are some chefs who often drain the water out of the zucchini before attempting to go on with a certain recipe. The same that is done when cooking an eggplant.
To drain the water from a zucchini you need to slice the veggie. Then, arrange each of them using a shallow dish. After which, sprinkle the slices with coarse salt and wait for at least 20-30 minutes in order to drain the water out from the veggie.
To remove the salty flavor, you must use cold water and strain it. Then, pat dry the slices and you can proceed with preparing for the recipe.
Cooking
Due to the prevalent high water content of zucchini, it is highly recommended to have it cook as quickly as you can or steam it.
When the zuchinni slices are all ready, you need to prepare a baking dish and put all the slices on top of it. Remember to use a smaller dish if you are having couple of slices only. For bigger zucchinis, you need to use a bigger dish. To make clean up a lot easier for you, use an aluminum foil and place it at the bottom of the dish right before you start cooking.
Arrange the slices of zucchini at the bottom of the dish. If you want to overlap them, you may do if it is needed.
After which, get a couple of thin slices of margarine or butter and place it on top of the veggie. Sprinkle the slices of zucchini with parmesan cheese, salt and garlic.
Bake the zucchini without cover for about 350 degrees. Let it cook for about 15 to 20 minutes. You will know if it's ready when the parmesan cheese turn to golden brown. Then, get the veggie out of the oven and serve it while it's hot.
Filed Under: Food & Cooking
About the Author: Leona Kesler is a head-chef at a very popular food restaurant in New York. Also she is a blogger who shares her experiences, tips, and other informative details about food and cooking. Her recipes are featured on many magazines.
Comments (0)