By Leona Kesler on Nov 04, 2010 with Comments 0
---
Pole sheds are useful for those who do have a farm or for any purpose that is agricultural in nature. The process of building one needs an expert design build contractor to do so. But you too can do it yourself, all it takes is basic carpentry skills and off you go.
WHAT YOU'LL NEED
saw
hammer
roofing nails
straight nails
tin roofing sections
roof trusses
poles
gravel
concrete
lumber digging equipment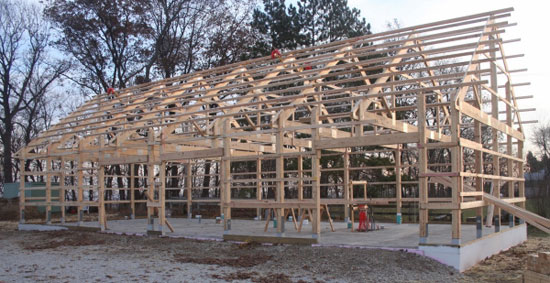 INSTRUCTIONS
Before Building The Pole Shed
Choose a location which is level plus it does not get flooded when there is rain.
Visualize your pole shed. Put your visualization into paper. Make a sketch out of it. This will make you see how your shed will looks like and put on some changes every now and then, if you find it necessary to add up a detail or two.
Adhere to the local law about building or construction. It might look just a simple shed but you must follow what the law says when it comes to constructing one. Therefore, before you even proceed on putting up a shed and be in action, go seek for building permit. In addition, if you have a construction site, you want to make sure unauthorized people stay outside of dangerous zones — temporary chain-link fences are great for this purpose. You may contact a temporary fencing rental service to install one for your construction site.
Building The Pole Shed
Dig up some holes. This will serve well for your posts. The number of holes should correspond to the number of posts you are going to use. Use an auger or a hole digger to create the holes. The size of the holes must bigger than the posts.
Put a gravel base with a measurement of 1-2 inches right at the bottom and then you can set up your pole. This will eventually aid you when it comes to drainage.
Get concrete and start filling up the hole. This will aid your post from accumulating or getting moisture coming from the ground. If you are experiencing winter season, this will keep your posts from freezing.
Form a brace with the use of 2×4 lumber. You need to brace the pole in order to be in an upright position to have the concrete to set in.
With the use of roof trusses, you can start building the roof. The size the trusses will solely depend upon on how big your shed is.
Lastly, using the roofing nails (screw-in), you'll put the tin right on the roof. Be sure that the sections are overlapping. As to the final step, on top of the shed's new roof place something to keep it steady such as ridge cap.
Filed Under: Food & Cooking
About the Author: Leona Kesler is a head-chef at a very popular food restaurant in New York. Also she is a blogger who shares her experiences, tips, and other informative details about food and cooking. Her recipes are featured on many magazines.
Comments (0)