By Leona Kesler on Oct 08, 2017 with Comments 0
---
Tuna steaks give you more options to choose from when it comes to seafood. It's an alternative to the beef steak for people who do not like to consume red meat. The fish can be cooked gently or well done depending on personal preferences and tastes. You can cook them by searing the fish in a pan, or grilling them over some charcoal. Charcoal adds depth and flavor to any food. Here is a recipe on how to cook tuna steaks. Read on for more information.
Instructions
Items You Will Need:
Tongs
Tuna Steak
Frying Pan or Grill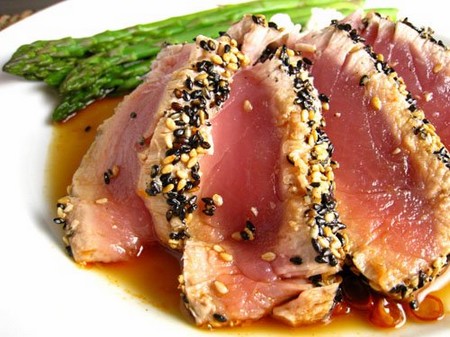 Step 1
Determine how you will cook these tuna steaks. You can pan fry the steaks or put them on a hot grill. Either option works. But in terms of flavor grilling adds a little more depth. The grill needs to be set to high heat if you will grill the tuna.
Step  2
Determine which seasonings you want to use. Tuna goes great with different flavors. Sesame or Teriyaki are nice options. You can marinade the tuna overnight as well. Ginger, soy sauce, sesame seeds or other things can bring your tuna steaks a great Asian flare. It's delicious and very easy to do.
Step 3
Preheat your grill to high. If the grill runs off of gas, the set it high and make sure the lid is closed. This will seal the heat in and make the grill very hot. The tuna steaks need to be oiled with olive oil prior to placing it on the grill's hot grates. If you are going to make use of a charcoal grill, you have heat up a grate and use it, or you can cook the tuna over a little charcoal chimney. You want to light the charcoal in a chimney. Now, put the grate or rack that is equivalent, right over the heat from the chimney. You still need to let the grate warm up to prevent the meat sticking to it. This helps the searing process as well. If you allow the tuna to cook over the grill for about four minutes, you will get rare results. If you cook the tuna on each side for two minutes it will be gently cooked. For well don't tuna steaks leave them on a few extra minutes. Be careful not to overcook the fish.
Step 4
You will need to do the same steps if you are using the pan to cook your tuna steaks. Yhe only difference is you will use a skillet. Preheat the pan and add oil. Season the steaks and cook them the same as previously mentioned.
Step 5
Serve the tuna with a side dish. Enjoy.
Filed Under: Food & Cooking
About the Author: Leona Kesler is a head-chef at a very popular food restaurant in New York. Also she is a blogger who shares her experiences, tips, and other informative details about food and cooking. Her recipes are featured on many magazines.
Comments (0)