By Leona Kesler on Aug 31, 2020 with Comments 0
---
Two cuts of beef steak, one from the flank and the other from the plate, are commonly referred to as skirt steak. Both types are used for the same purpose. Tougher than many other cuts of steak, both cuts are flat, long and valued for their flavor. Usually, the inside skirt steak is boneless portion of the flank and trimmed free of membranes and fat. It is a fairly inexpensive cut and grilled as fajitas and often marinated.
Since the meat of skirt steaks is relatively tougher than other cuts, they are either generally cooked very slowly by braising or cooked very quickly like pan-seared. For additional flavor, skirt steaks are usually marinated. You can also achieve maximum tenderness by slicing them across the grain because skirt steaks have a very strong graining.
In Steak houses and New York deli restaurants, the skirt steak is occasionally referred to as Roumanian Strip or Roumanian Tenderloin. Most of the time, it is barbecued whole or grilled then served with baked beans, potatoes and fried onions.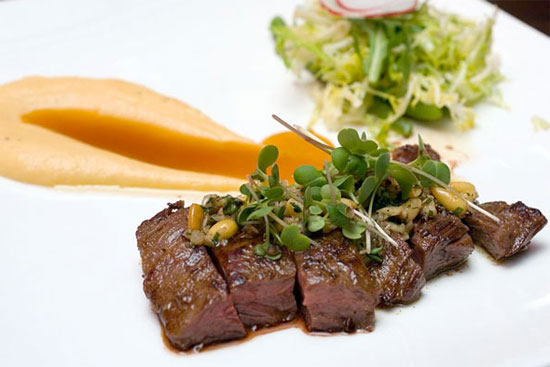 What You'll Need
Skirt Steak
Mesquite Seasoning
Chimichurri Sauce
How to Cook Skirt Steak
For a more tender cut, pound out the skirt steak before cooking. To tenderize the meat, marinate using vinegar style marinades or citrus. You can use dry rubs containing papain (or papaya) because it tenderized the meat by breaking down protein. Trim all the extra fat from the skirt steaks' sides.
In making fajitas, combine fresh chopped garlic, crushed red peppers, olive oil and lime juice to be used as marinade. Leave the meat marinated for a period of 3 to 4 hours. Over hot coals, grill for 3-4 minutes per side while occasionally brushing with the marinade. Let the meat rest for five minutes before slicing. Slice against the grain and place in flour tortillas which are previously warmed. Add guacamole, bell peppers, grilled onions and tomatoes and your favorite add-ons.
In making skirt steaks with gorgonzola blue cheese butter, use McCormick Mesquite seasoning as rub on both sides of the steak. Let rest for a period of 5 minutes. Combine approximately 1 part soft butter and 3 parts gorgonzola blue cheese. Add a small amount of finely chopped parsley and chives. Slice the steak against the grain and use the cheese butter as topping. Before eating, allow the toppings to melt first.
Buy a jar of Argentine marinade made of peppers, herbs, parsley and spices which is commonly known as Chimichurri Sauce. Over the steaks, pour the sauce over and marinate for a minimum of 6 hours. Pan fry or grill the steaks and occasionally brush with the marinade. Let the cooked meat rest and slice against the grain.
Tips
Always slice skirt steaks against the grain or else the meat will be tough or hard.
Filed Under: Food & Cooking
About the Author: Leona Kesler is a head-chef at a very popular food restaurant in New York. Also she is a blogger who shares her experiences, tips, and other informative details about food and cooking. Her recipes are featured on many magazines.
Comments (0)