By Leona Kesler on Nov 21, 2010 with Comments 0
---
Have you ever attempted to taste rocky mountain oysters? If not, then here is your chance to make your very own version of this one-of-a-kind delicacy.
WHAT YOU'LL NEED
2 lbs. bull testicles
1/2 cup sugar
water
3/4 cup of Kosher salt
8 cups of water
pepper
peanut oil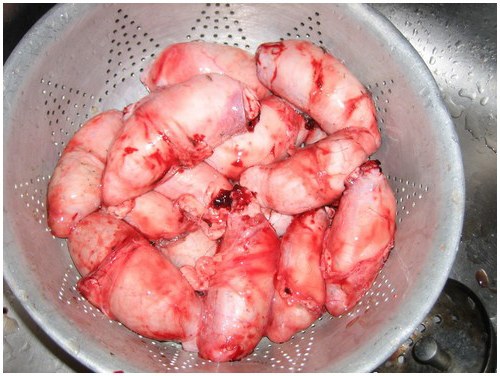 INSTRUCTIONS
Remove the skin from the bull testicles using a sharp knife.
Mix the salt and sugar, then dissolve these inside a bowl with 8 cups of water.
Add the chopped bull testicles (rocky mountain oysters) into the mixture.
Put a cover on top of the bowl and let it sit at room temperature for about an hour or so. Then, get rid of all the water from the mixture and rinse the oysters with cold water.
Wash the bowl thoroughly and put back the oysters into the bowl. Fill the bowl with enough milk in order to fully cover the oysters. Then, put on a lid on the bowl and let it sit for another an hour.
After which, drain the milk out of the bowl with oysters. Wash the oysters with cold water. Remember, it is very necessary to get the blood out of the bull testicles properly. The milk will make the oysters taste less salty.
Put the rocky mountain oysters on a pot. Pour in enough water to cover the oysters and add at least one teaspoon of vinegar (white).
Let the water come to boil, when it does, lower down the heat and have it simmer for about 6 minutes.
Drain the liquid out from the oysters and place them on bowl filled with ice-cold water. Then, let the oysters cool thoroughly.
Chop the oysters about 1/3 inc. in oval shape. Then, sprinkle pepper and salt to taste.
Prepare at least 3 bowls. On the first bowl, pour in the milk. The second bowl will be a mixture of red wine 1 cup, and hot sauce. Third bowl will be a mixture of cornmeal 1/4 cup, garlic powder and all-purpose flour 1 cup.
Get an oyster slice and place it into the flour mixture, next to the milk, and repeat after which, put the oyster slice right into the hot sauce with red wine mixture.
Put peanut oil on a hot skillet. Fry the rocky mountain oysters until they turn to golden brown. Be sure you will not overcook them, since it lead to a tougher oysters.
Serve while hot.
Filed Under: Food & Cooking
About the Author: Leona Kesler is a head-chef at a very popular food restaurant in New York. Also she is a blogger who shares her experiences, tips, and other informative details about food and cooking. Her recipes are featured on many magazines.
Comments (0)