By Leona Kesler on Jan 22, 2018 with Comments 0
---
Ribs are a great food to make for an event outside when the weather is nice. Ribs are a universal food. Even the hardest to please eaters love a good rib. Ribs are hearty, rich and easy to make. You can cook ribs several different ways. Here is how you can cook a rack of ribs like a professional. You can use the oven or the smoker for this recipe. Read on for more information.
Items:
Rack of Beef Ribs
Barbecue Sauce
Grill
Rack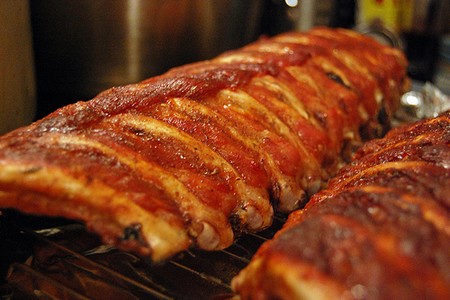 Step 1
The way to cooking unforgettable ribs is by cooking them slowly with a great sauce on top. KC Masterpiece makes nice, bold, zesty sauces that I like to use for this recipe. Cover the ribs with several layers of the flavor you prefer. Honey barbecue is a good choice.
Step 2
If you have decided to cook the ribs on the grill, then be sure to use indirect sources of heat. The grill should stable and set at a low enough temperature that the meat doesn't cook too fast. Place the ribs on a rack before you put them in the grill. This will open up space for you and separate each set of ribs and get the sauce to stay on and cook in.
Step 3
When the ribs have cooked halfway, add another layer of barbecue sauce. Turn the rack of ribs carefully and add the same amount of barbecue sauce on the back side. The goal is to get the sauce to get thick on the surface of the rib. However, give it time to set in. If you add sauce too soon, the ribs will not cook.
Step 4
When you cook ribs at a slow, even pace over a low temperature, the sugar content inside the barbecue sauce will won't burn. Make sure your heat setting is never higher than 225 degrees. It isn't necessary to precook or boil the rack prior to doing these steps because the temperature is so low.
Step 5
After the ribs have cooked completely, the ends of the bones will be visible. They are hot so take precaution. Use a kitchen towel to grab a rib and turn it. The bone should turn easily inside the meat. This is a good indication that the ribs are tender and done.
If you can't get the rib to separate, then cook it some more.
Step 6
After the ribs are completely done  and removed from the over, determine whether you want to add more barbecue sauce before you plate the ribs up. You can also serve the ribs with a little extra sauce.
Filed Under: Food & Cooking
About the Author: Leona Kesler is a head-chef at a very popular food restaurant in New York. Also she is a blogger who shares her experiences, tips, and other informative details about food and cooking. Her recipes are featured on many magazines.
Comments (0)