By Leona Kesler on Jan 25, 2018 with Comments 0
---
Ham hocks are used a lot in southern cuisine. These things have been enjoyed for a very long time. Here is how you can cook ham hocks. There recipe its below.
Step1
Wash all vegetables. You can use celery, leeks, onion and carrot. Dice all the vegetables into even squares. Make sure they are the same size so they can cook evenly.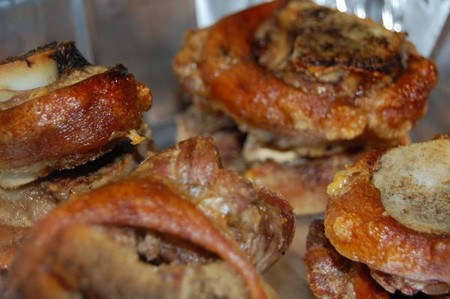 Step 2
Fill a large pot with water. Add ham hocks, black peppercorns, salt and the vegetables to the water. Cook over medium heat for two to three hours. Be careful not to overcook the ham hocks.
Step 3
Remove the ham hocks from the boiling water. Remove all excess water and drain. Save the liquid it was cooked in and the vegetables as well. Preheat your oven to 425 degrees. Grease a cast iron pan with vegetable shortening. The vegetables and ham hicks go into the pan. Put in some of the liquid from before. Bake the hocks for half an hour.
Step 4
While the ham hocks are in the oven , check to make sure the liquid is not cooking out. Add more liquid as needed.  Before the hocks are completely cooked, add a cup of beer to the pot. Or, you can just use plain water with a little bit of salt. Cumin would work well with the flavors. Add it if you want.
Step 5
Test to make sure the meat is cooked thoroughly. You can serve the ham hocks with potatoes if you like. There are other options as well like sauerkraut,  white bread, dumplings or anything you think works well. You can even strain the liquid from cooking and serve it on the side as a sauce.
Variation Recipe
Marinate ten pork ham hocks. Slice them in half. Submerge all the meat in corning liquid. Weight the pork down with a heavy plate to make sure it stays completely covered in the marinade. Check on the meat ever day to make sure it is soaking up all the flavor.
Add two gallons of plain water to a large pot. Put in carrots, two bay leaves, all spice, black peppercorn, and yellow onion. You want to boil all of these ingredients until they begin to turn soft. Cover the large pot with a tight lid. After the mix boils, you may have to replace some of the water. Simmer the meat for about 2 ½ hours. If the hocks are tender, take them from the pot.
Serve the ham hocks with whatever side you wish. Sauerkraut, rice and vegetables along with other things can be used as a side to compliment this recipe. Plate the ham hocks, serve while hot.
Filed Under: Food & Cooking
About the Author: Leona Kesler is a head-chef at a very popular food restaurant in New York. Also she is a blogger who shares her experiences, tips, and other informative details about food and cooking. Her recipes are featured on many magazines.
Comments (0)