By Leona Kesler on Feb 03, 2018 with Comments 0
---
Pork chops are easy to make and a great idea for a lunch or dinner meal any day of the week. You don't have to be a professional cook to make a good pork chop. They are fairly easy to make and the family will be happy you did. Here is a quick and easy recipe to make pork chops. Please read on for more information.
Items You Will Need:
Bowls
Onion (1, sliced)
Water ( ½ cup)
Frying Skillet
Groceries
White Wine ( ½ cup, dry)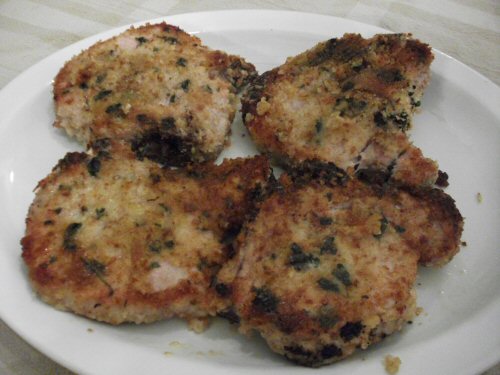 Unsalted Butter (2 Tbsp.)
Celery  (1 stalk)
Dijon Mustard ( 2 Tbsp.)
Pork Chops (2) (1 ½ inches)
Capers (2 Tsp.)
Strainer
Braising Pan with Top
Step 1
Put the skillet on the stovetop. Turn the stove top on to medium heat. Put 2 tablespoons of butter in the skillet. Melt the butter.
Step 2
Season the chops. Sprinkle them with the dry ingredients. You may also season them with salt and pepper, garlic powder or onion powder to give it some depth in terms of taste. Put he pork chops in the pan with the melted butter and brown on both sides. Take precaution not to overcook the meat. Pork chops can dry out really quickly and it can absolutely ruin the taste if they are too well done. Check to make sure the meat is retaining moisture.
Step 3
Move the chops to braising pan. Turn the heat to medium to continue cooking the chops.
Step 4
Add some celery and onion into the braising pan. Allow these veggies to cook in the frying pan with the meat for about 3 minutes. Stir the vegetable sand make sure they do not stick to the pan. You don't want the taste of scorched vegetables.
Step 6
Season the pork chops with seasoning salt. You can add a little more onion and garlic powder to the chops. Now, put the vegetable mixture directly on top of the pork chops. Taste to make sure the flavors are good. Adjust seasoning as needed.
Step 7
Cover the braising pan with a lid. Put the entire pan into a 300 degree oven. Let the pork chops finish cooking for a duration of about 1 ½ to 2 hours. Check to make sure they are not drying out. The pork chops are complete when they are fork tender.
Step 8
Take the chops out of the pan and strain the juices. Put capers and Dijon mustard in the cooking juice. Simmer those ingredients  for about 2 minutes. Put in on the pork chops.
Step 9
Serve the pork chops while hot. Choose the side dished of your choice. Rice is always good.
Filed Under: Food & Cooking
About the Author: Leona Kesler is a head-chef at a very popular food restaurant in New York. Also she is a blogger who shares her experiences, tips, and other informative details about food and cooking. Her recipes are featured on many magazines.
Comments (0)