By Leona Kesler on Feb 13, 2018 with Comments 0
---
This dish, as per the name, carries a Caribbean tag with it. It is an easy dish to prepare and once served, disappears down the palette pretty fast. It can be made spicy as per taste and served with rice or steamed vegetables.
WHAT YOU'LL NEED
chicken quarters (6)
chick peas (1 can)
vinegar (1/3 cup)
curry powder (4 tablespoon)
seasoning- all purpose (1 ½ tablespoon)
garlic powder (1/2 tablespoon)
garlic cloves (2)
onion medium size (1)
cayenne pepper (1 dash)
parsley (1 tablespoon)
olive oil (3 tablespoon)
bread crumbs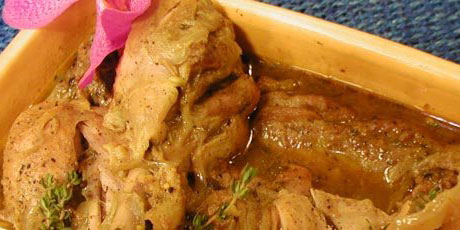 INSTRUCTIONS
Place the chicken in a large bowl or pan and remove its skin.
Take care to also remove the fatty deposit and the mucus membrane sticking to the meat.
Wash the chicken thoroughly under clean running water. Now fill water in the bowl and add 1/3 cup of vinegar to it. The solution should be adequate to cover the chicken when put into it.
Thoroughly rinse the chicken till you feel that it is clean. Once again clean with water. The chicken is now fully clean and ready for cooking.
Divide each quarter of the chicken into 4 pieces.
You can now take all the items listed and mix them together in a small bowl, or sprinkle them directly onto the chicken making sure that all the pieces of the chicken get nicely coated with the mixture.
Heat up a frying pan on the stove keeping the heat at medium high. Once the pan heats up, pour olive oil into it.
Gently place the seasoning- coated pieces of chicken into the frying pan so that they rest comfortably.
Let it cook for about 3 minutes. Keep adding water when you notice that the chicken is sticking to the pan and keep stirring.
After this, reduce the heat to low medium and cover the pan.
Let the dish cook for about 25-30 minutes. Stir and keep adding water as required.
Bread crumbs may be added to thicken the gravy if required. You may also add chick peas in case the gravy appears to be too watery.
A yummy dish to serve would be Jamaican Chicken Curry with rice and some steamed veggies.
TIPS AND WARNINGS
All meat tastes much better if marinated overnight and cooked the next day. The flavour is also heightened.
Filed Under: Food & Cooking
About the Author: Leona Kesler is a head-chef at a very popular food restaurant in New York. Also she is a blogger who shares her experiences, tips, and other informative details about food and cooking. Her recipes are featured on many magazines.
Comments (0)