By Leona Kesler on Feb 18, 2018 with Comments 0
---
Eggplants are increasing in popularity in recipes and people are finding out that Eggplants can be a great addition to any meal, or be the meal itself. Eggplants come in different varieties and it takes on the flavor of what you season it with. You can make various dishes using Eggplant like spaghetti and more. International cuisine like Asian and indian inspired dishes really find some tasty and creative ways to use eggplants. Here is how you can cook Eggplant. Read on.
Items You Will Need:
Step 1
Do some research. Eggplants come in more than one variety. There is the very common globe eggplant and other kinds like Indian, Japanese and the thin Italian kind of eggplant. Decide which eggplant compliments the dish you want to make.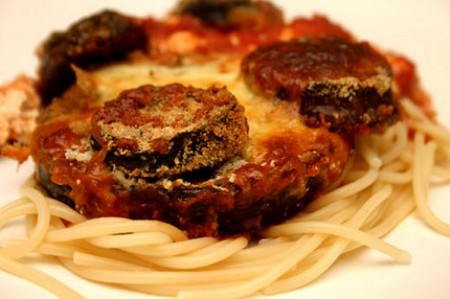 Step 2
The various kindss of eggplants different in taste. You should salt larger eggplants to season them. The globe eggplant has a tendency to be bitter to the taste. They are cut into circles and dashed with salt. After that, line the circles up inside a colander and allow the bitter liquid to run out. This should take about 20 to 30 minutes. Rinse and slice the eggplant. Salt the smaller eggplant pieces to make sure the flavor is enhances and not watery.
Step 3.
Warm some olive oil in a frying pan. Be careful of how much oil you use or the eggplant will absorb it and taste oily. Cook your eggplant slices in the olive old for 5 to 7 minutes on each side. You want them to be brown and golden. The rounds should be tender as well.
Step 4
You can even choose to grill the eggplant pieces. They should be prepared over a medium to medium high grade heat. Grill for 10 minutes on each side. Make sure they are tender.
Step 5
Broil the eggplant for 5 minutes on each side. Brown the eggplant and test for tenderness. Brush the rounds with olive oil before broiling.
Step 6
Wash the eggplant. Slice slits into the entire eggplant. Place a few cloves of garlic into the incisions. Preheat the oven to 400 degrees. The place the eggplant into the over. Cook for 40 minutes to an hour. You can remove once it is completely soft and had collapsed. Remove the skin from the eggplant and puree. You can chop or mash the plant if you wanted as well.
Step 7
Put mint sprigs, parsley along with the eggplant round and some tomato.
Step 8
You can even stir fry the eggplant with beef, red chili and some garlic for a great Asian fused dished.
Filed Under: Food & Cooking
About the Author: Leona Kesler is a head-chef at a very popular food restaurant in New York. Also she is a blogger who shares her experiences, tips, and other informative details about food and cooking. Her recipes are featured on many magazines.
Comments (0)