By Leona Kesler on Jan 11, 2018 with Comments 0
---
Dried beans have been a staple diet for people since ancient times. They are definitely more economical and healthier than canned beans. In addition they are easy to transport, require simple packing and are lighter in weight. Dried beans are an excellent source of protein and can be prepared quite easily.
WHAT YOU'LL NEED
dried beans (as per requirement)
1 crockpot
1 metal strainer
clean water for boiling
INSTRUCTIONS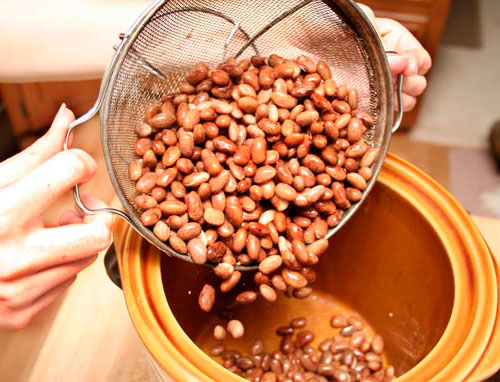 While attempting to cook dried beans, the first step is to dry clean them thoroughly. The beans are likely to be dirty and in all likelihood will be having small pebbles, stones, debris and some insects in them. Some broken or cracked beans may also be there. These should be removed since they may be home to small insects.
Once the initial cleaning is over, the beans should be thoroughly rinsed in water using the metal strainer. Remember, they are being washed for the first time since washing them at the factory would make them susceptible to fungus. Also, by washing with water any trace of dirt and insecticides will also get removed.
Transfer the washed beans to the Crockpot and fill it with water. The beans should get fully submerged. This helps in re-hydrating the beans. In case you desire some other flavour, you may use broth or any other liquid in lieu of water. Now cover the Crockpot.
Plug in the Crockpot and set temperature as per your convenience.
A low temperature setting may be used when there is no immediate hurry to get the beans cooked, since at times it takes the whole day at this setting.
When a higher setting is used, the beans should be checked after 2 – 3 hours. In case they become tender, the setting should once again be reduced to low and the preparation should be cooked for about 4 – 6 hours more.
As you cook on the higher temperature, the water level comes down and you have to keep adding accordingly. Less water may burn the beans.
When cooked with broth, they can be served with rice or bread.
TIPS AND WARNINGS
You may boil a large quantity at one time. The extra quantity can be sealed and refrigerated for later use up to three months.
Though boiling dried beans at low temperature does not require much supervision, never leave a working electrical gadget unattended for long periods of time.
Filed Under: Food & Cooking
About the Author: Leona Kesler is a head-chef at a very popular food restaurant in New York. Also she is a blogger who shares her experiences, tips, and other informative details about food and cooking. Her recipes are featured on many magazines.
Comments (0)