By Leona Kesler on Feb 16, 2018 with Comments 0
---
Cube steak and gravy is a dish which can be savoured any and every day of the week. The best part about this dish is how quickly and easily this dish can be prepared. And there is absolutely no deduction on the deliciousness of this dish. Your family will lick their fingers and ask for more!
WHAT YOU'LL NEED
one medium sized frying pan
flour – ½ cup
cube steak
pepper and salt – according to taste
milk – ½ cup
water – 1 cup
some wax paper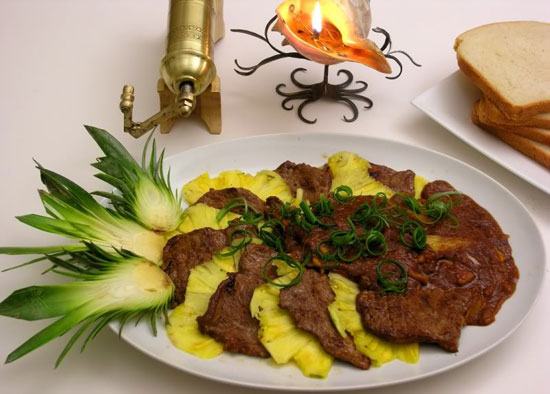 INSTRUCTIONS
Keep the frying pan on the gas burner. Turn the heat to medium.
Keep some wax paper on the table and put some flour on it.
Take the cube steak to the flour and rub it so that the flour spreads evenly.
Now that the pan is hot, you can add some oil to the pan and spread it evenly.
Now, place the flour coated steak into the pan and cook till the steak is cooked from all sides. If the flesh is pinkish, you need to cook some more.
Once it is done, take the steak off the pan.
Maintain the heat setting of the burner at medium. Add some milk, water and the remaining flour to the pan. Now, turn down the heat to low, and keep stirring till the mixture attains the look of thick gravy.
Now add the steak back to the pan and add the gravy on the steak pieces routinely so that they fully absorb the gravy. This way, the pieces will soak the gravy and be much more tasty than otherwise.
Keep cooking for another 5-10 minutes till the steak looks cooked and the gravy seems to have spread evenly around all pieces.
Once the steak is done, you have unlimited options regarding what to serve as a side dish. Cube steaks and gravy allow for almost all kinds of side dishes. You can go in for the traditional beans, carrots and peas. Mashed potatoes and corn are old favourites. You can also come up with your own variations. You can add French fries or wedges to make the dish look more attractive and a delight for children at the same time.
Filed Under: Food & Cooking
About the Author: Leona Kesler is a head-chef at a very popular food restaurant in New York. Also she is a blogger who shares her experiences, tips, and other informative details about food and cooking. Her recipes are featured on many magazines.
Comments (0)