By Leona Kesler on Feb 16, 2018 with Comments 0
---
New York Strip Steak is dubbed as America's favorites. Why? Well, it's all meat, with a dash of herbs and spices, this piece of steak will surely make your mouth water for more.
The recipe might sound a bit difficult to do but in reality, it is the total opposite. It's easy to cook and no sweat at all!
WHAT YOU'LL NEED
barbeque grill
New York Strip steak
1/2 tablespoon of butter
1/2 tablespoon of cooking oil
black pepper
salt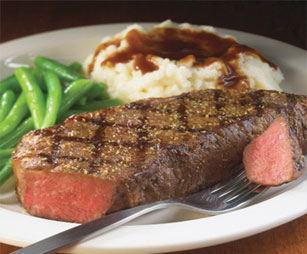 INSTRUCTIONS
Pre-Cooking
Get the steaks out from your fridge, and let them sit for about an hour or so before you start grilling them. This will make the meat be in room temperature leading to an even cooking.
When 60 minutes have gone pass, you rub the steaks with cooking oil, then put a dash of salt plus a crack of fresh black pepper.
Never attempt to put on the steak the seasonings before you put on the cooking oil. Since there has been a belief that salt has the tendency to attract moisture out of the New York Strip Steak.
Cooking
Pre-heat the grill for about 15 minutes or so.
Set the high heat for a temperature of about 500-600 degrees. This is to make the outside layer of the steaks sear perfectly.
The color that you are looking for here is a very dark colored steaks not looking charred.
When both sides of the New York Strip steaks are seared, you must put the steaks on to the top of the grill which is not as hot as the surface of the grill you use for the main cooking of the steaks. Let it stay here for a couple of minutes or so.
If your barbeque grill comes with a lid, you put on the lid on top of the grill. This will make the searing process shortened for about 4 minutes.
Remember, to flip the steaks only once.
In order to get those nice looking cross-marks on the steaks, you need to make approximately 1/4 turn during halfway of the cooking time for both sides of the steaks.
After which, when it's all ready. Get the steaks off from the grill and put 1/2 tbsp. of butter on both sides of the New York Strip Steak. Let the butter sit for about 5 minutes.
Filed Under: Food & Cooking
About the Author: Leona Kesler is a head-chef at a very popular food restaurant in New York. Also she is a blogger who shares her experiences, tips, and other informative details about food and cooking. Her recipes are featured on many magazines.
Comments (0)