By Leona Kesler on Apr 16, 2018 with Comments 0
---
Want the taste of the best corn you ever had? Try this method which is a much quicker and better way of making your corn cobs than of boiling them in water. So get hold of a bar of butter and get ready for a gourmet experience which will leave you pleasantly surprised at the delightful experience of the best cob you have ever tasted.
WHAT YOU'LL NEED
ears of corn (two)
a microwave oven
oven gloves
butter
INSTRUCTIONS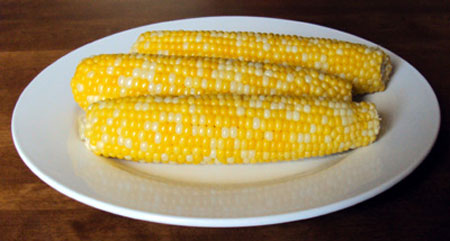 First put two corncobs in the micro oven without removing the husk from your corn cob.
Set the micro wave on high for approximately for ten minutes. The time may have to be adjusted considering the size of your corn cobs and the model of your microwave and its wattage.
Now take out the corn from the microwave. Use your oven gloves while doing it as the corns will be very hot so you should be very careful.
Now to test whether the corn has reached the right tenderness pull apart a tiny bit of husk from the ear of the corn you should apply great amount of caution as can result in a burst of steam. If it has still not reached the right tenderness put it back in the micro for couple of minutes more.
Now keep the corn on a plate and leave it for cooling for twenty minutes.
Now when the corn is still warm set them on a platter or on the serving trays specially designed for cobs. Be careful and make use of your oven gloves while handling the cobs.
Now take the butter and apply it evenly all over the corn make use of salted butter preferably as it compliments well with the corn cobs. Now go ahead and enjoy your scrumptious corn cobs.
Filed Under: Food & Cooking
About the Author: Leona Kesler is a head-chef at a very popular food restaurant in New York. Also she is a blogger who shares her experiences, tips, and other informative details about food and cooking. Her recipes are featured on many magazines.
Comments (0)