By Leona Kesler on Oct 22, 2017 with Comments 0
---
Commonly used for grilling meats, the George Foreman Grill is a countertop appliance which has become famous in a lot of households. There are several models for this grill and all of them can help make cooking easier and faster. Pork chops is one of the meats that can be cooked using the George Foreman Grill and it is advised to select boneless pork chops for best results.
One of the benefits of the George Foreman Grill is that cooking time is significantly reduced since both sides of the food can be cooked with the system that uses top and bottom grill plate press. Furthermore, the fat can be grilled out. There is a grease tray where the fat is allowed to drip and most of the grills sit at an angle for adequate draining. There are times that the meat dries out because of the pressure applied by the top lid. To help the meat stay moist, it is always best to marinate before cooking. Any of your favorite sauces or marinade can be used. To prevent burning the meat, you need to monitor the pork chops closely since cooking is quick with the George Foreman grill.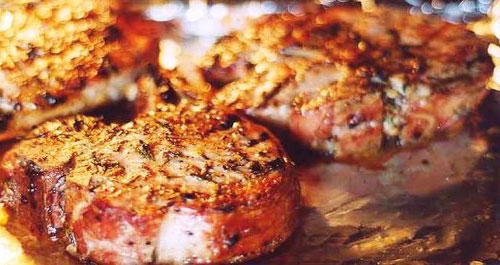 What You'll Need
George Foreman grill
Grease tray
Large bowl or pan
Spatula
Marinade
Raw pork chops
How to Cook Boneless Pork Chops on the George Foreman Grill
In a pan or large bowl, pour the marinade until it fills the bottom fourth. Put the pork chops inside and cover the meat with enough marinade. Place the bowl inside the refrigerator for about 1-2 hours.
Take out the pork chops from the refrigerator and prepare the grill. At the end of the grill, place the grease tray and lay the pork chops on the grill as it starts to become hot. Pour a small amount of marinade on the grilled meat.
Flip over the pork chops halfway through cooking. The grill can cook both sides of the pork chop. However, there is a hotter temperature on the bottom grill.
Use a plastic spatula to take out the pork chops because utensils made of metal may scratch the surface of the grill. Unplug the grill when you are done.
Tips
After the food is done, you can use a plastic scraper to remove debris from the grill and brush loose grease for easier cleaning.
Filed Under: Food & Cooking
About the Author: Leona Kesler is a head-chef at a very popular food restaurant in New York. Also she is a blogger who shares her experiences, tips, and other informative details about food and cooking. Her recipes are featured on many magazines.
Comments (0)