By Leona Kesler on Jan 04, 2018 with Comments 0
---
Rib eye roast is such a delicious dish to eat especially during dinner parties or a simple dinner for two. Cooking it right can be hard especially for first timers. But when you get the hang of it, you can start cooking the rib eye roast with no sweat at all.
What You'll Need
roasting pan
spices
thermometer for the meat
5-6 pounds of rib eye roast
olive oil
potatoes
carrots
Instructions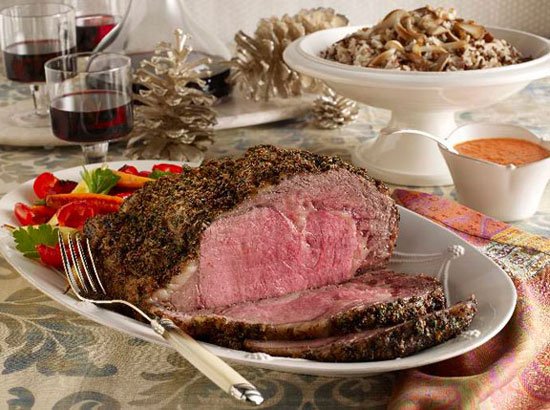 Get the 5-6 pounds of rib eye roast from the fridge and let it sit in room temperature for about 60minutes and even more.
Brush the rib eye roast with olive oil.
After which, rub some spices on the outer surface of the roast. However, if you want to taste the spices right down to the core of the roast, you can make incisions into the meat and insert herbs and spices such as thyme, sage, rosemary, and do not forget to add pepper and kosher salt.
Sear the outermost surface of the roast by laying it all fat side up into the hot oven. Let it set there for about 450 degrees F. Wait for 15 minutes, then you turn over the oven's temperature for about 275 degrees. Then you can add side dishes such as onions, carrots and potatoes.
With the use of the thermometer, you are going to know the temperature of the roast. All you have to do is insert the thermometer right at the center of the meat after cooking the meat for about 2 and a half hours. If you want well-don roast – it should be 170 degrees, for medium – 160 degrees and for rare roast – 135 up to 145 degrees.
When the meat has reached the temperature you want, you need to cover the meet with an aluminum foil. Then, let it set for about 15 minutes before you start carving.
There you have it, simple and easy to follow steps in cooking rib eye roast. Always remember not to undercook or overcook the meat, you might end up eating something that you do not want to eat. The food will just be thrown out in the bin.
If you want to add more flavors to the meat, just get hold of different sorts of spices and herbs and start experimenting with flavors. You never know, you will have the best winner rib eye roast at home.
Filed Under: Food & Cooking
About the Author: Leona Kesler is a head-chef at a very popular food restaurant in New York. Also she is a blogger who shares her experiences, tips, and other informative details about food and cooking. Her recipes are featured on many magazines.
Comments (0)