By Justin Belden on Aug 24, 2010 with Comments 0
---
You can come across different types of file formats in audio and video files. Many a times, the player which you are have in your home. Even in the system, you can't run all the file formats due to the availability of software programs. No software can completely change a single format of audio files into all the other formats available. Hence you should have separate software programs to convert other formats.
Due to the availability of so many file formats in audio, there are many conflicting issues arises in conversion process. You can't organize your audio files properly due to the unavailability of software. If you are having a particular audio file format and you need to change to some other format, then you are in need of software for doing that. Most of the operating system provides inbuilt software for converting different audio file formats.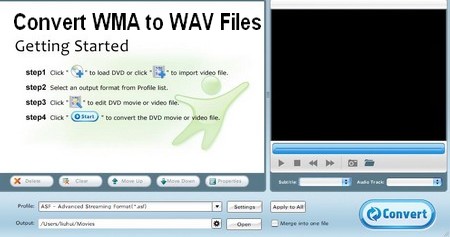 Some of the operating system doesn't have this provision and in those cases you have to install the software externally from the internet. There are free software programs available by many of the service providers and also individuals. Many people nowadays indulge in writing their own software programs and they are working easily and efficiently. The following tips help in converting your WMA files into WAV files easily.
The software for converting WMA into WAV files is called iTunes. First download the iTunes from the online sites where it is available for free. You can go to Apple website for getting iTunes for free. Then install them in your system. Once the installation is over, now you are ready to use the software for converting your wma into wav audio formats. Open the iTunes by making a double click on it and then you can see the main page of the converter program.
Then get into the edit menu which is on the main file menu toolbar in the first page itself. Click the preferences tab in the edit menu and then go to advanced tab for using the advance options for converting. In order to give your wma files to convert, you have to import them from its original place. Select importing tab from advanced option to do this process. There are many types' encoders available to encode the given input files. Choose wav encoder and click ok.
Then drag all your wma files into tat window and the conversion starts automatically by asking you the confirmation for continuing the process. Then the iTunes automatically convert your files into wav formats. You can now play your files in wav formats and you have to get the files first. Get the files from the library where it is stored automatically once it is converted.
Filed Under: Computers & Technology
About the Author: Justin Belden is a freelance web & graphic designer with over 15 years' experience. He is also an Avid member of the Design/Development community and a Serial Blogger who loves to help people by sharing interesting and informative tips and trick related to computer and technology.
Comments (0)