By Marie Mayle on Apr 20, 2010 with Comments 0
---
Once you have covered the topics and questions highlighted in your interview plan, you should be coming towards the end of the time set aside for the interview. With perhaps five to ten minutes or so remaining, you would normally give the candidate the opportunity to ask you questions ('Well, we seem to have discussed everything we wanted to deal with. Are there any questions you'd like to put to us, Mr Jones?').
He will probably have a number of queries, possibly developing from information given in the job advertisement, company brochures and/or the interview. Typically, he might ask you to tell him more about various terms and conditions, his precise role and responsi­bilities within the department, company training schemes and his likely future with you. If your recruitment process has been thorough (analysing the job, drafting a job description and so on) and you have prepared for the interview well by reading job analysis notes, and so forth, you should be able to answer his questions fully.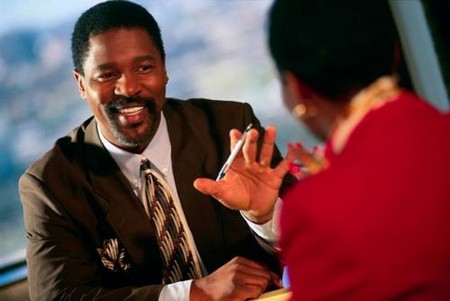 Make sure that your answers are always scrupulously honest and realistic. Too many interviewers try to impress a potentially suitable candidate by just talking about the best features of the job and exaggerating how good it is ('Holidays? Oh, take them when you want, Mr Jones. We always like to accommodate our employees' needs'). Only when he starts work does the candidate discover the less pleasant aspects of the job and that the interviewer misled him ('Holidays? You can take them when you want so long as we're not left short-staffed. We have a staff rota system and I'm afraid that as you're the most junior you choose your holiday dates last'). A wholly fair and accurate impression of all aspects of the job and company must always be given if a newly recruited employee is not to become disillusioned and subsequently leave.
As soon as you have answered the candidate's questions, you should bring the interview to an end. Never make a job offer or reject a candidate at this stage even if he appears to match your employee specification precisely or seems totally unsuitable. In the heat of the moment it is far too easy to make a rash (and incorrect) decision based on feelings rather than facts. Wait until after all the interviews have been completed when you can make a cool and unbiased assessment of each candidate, compare notes about them and talk to your colleagues. This is the only way you can hope to reach a right and fair decision.
Rejecting a candidate there and then is not good practice. Even if your motive was to spare him the worry of not knowing, it will often still be regarded as a rude and heartless action ('Didn't give me much of a chance, did he? Just said I wasn't right for the job then threw me out!'). Ill feeling and resentment may be generated towards you and your company. ('Well, that's the last time I ever buy their goods and I'll make sure my friends don't go there either!'). Should you offer a reason for rejecting him, it could lead to a lengthy discussion or even a heated argument as he tries to persuade you to change your mind. The next, probably tense and nervous candidate will be kept waiting to see you.
It is far better to finish by simply thanking the candidate for coming to the interview and explaining what happens next ('Well, we seem to have covered everything then, Mr Jones. Many thanks indeed for coming along to see us. Weil be writing to you by the end of this week'). Sidestep any potentially embarrassing questions ('How did I do?' or 'What do you think your decision will be?') by standing up, smiling warmly at him and offering him a handshake. This will indicate the interview is now over. Show him out and bid him farewell.
Filed Under: Uncategorized
About the Author: Marie Mayle is a contributor to the MegaHowTo team, writer, and entrepreneur based in California USA. She holds a degree in Business Administration. She loves to write about business and finance issues and how to tackle them.
Comments (0)