By Fred Goodson on Jun 17, 2010 with Comments 0
---
Urine samples are often a necessary item for certain health tests at veterinary check-ups. However, since most dogs are not trained to the thoroughness required for peeing in a container or even on command, collecting a sample can be quite the daunting task. In this article we have stumbled on to a marvelous trick to collecting canine urine.
Your dog's first morning urine is the most "telling," because it's the most concentrated.
Before you follow him outside in the morning to collect the sample, have a new, clean zip-lock bag ready by the kitchen sink.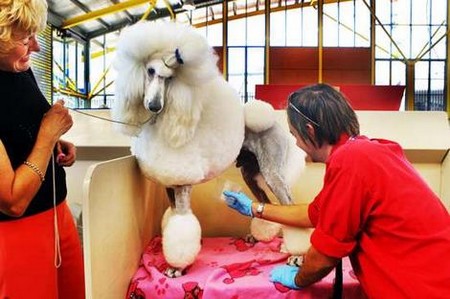 Grab a long-handled soup ladle and wash with soap and hot water. Dry it or use a clean, lint-free cloth. (Contamination from dust, lint, or even pollen will mess up the sample.) You will use the ladle to catch the urine stream.
Put a six-foot leash on your dog if he's skittish about having you follow him around when he pees. If using a leash, however, keep it loose and let the dog know he has the freedom to go pee.
Give him the command, read his body language, and get ready. When he assumes the position, quietly slip the long-handled soup ladle under him and catch an ounce or two. This works for females as well. Usually your best chance is to come from behind the dog, between the hind legs, trying not to touch the dog with it. The ladle should be about half full. Carefully withdraw it from underneath him, and carry it inside to the kitchen sink.
Pour the urine into the zip-lock bag. If you spill a few drops on the outside of the bag, go ahead and seal the bag, and then you can rinse off the outside.
Write your dog's name and the date on the bag, using a Sharpe or label.
Refrigerate the bag if you're not going immediately to the vet.
Your vet tech will be so impressed when you arrive with your neat, labeled bag of yellow juice! It will save them the time and hassle of doing it, and your dog will be much less stressed!
Filed Under: Pets & Animals
About the Author: Fred Goodson has a passion for pets and animals. He has 4 dogs and is planning to have another one. He is also a blogger who writes about pets and animals. Currently, he is living in New Jersey.
Comments (0)