By Bruno Silva on May 15, 2010 with Comments 0
---
Everyone loves the classic appeal and beauty of diamond and gold jewelry. They are popular choices for gifts, holidays, or just to let someone know how much they are loved and cared about.  All sorts of materials will accumulate onto the jewelry from natural oils, lotions, soaps and more. This buildup can make your once brilliant gold and diamond piece of jewelry appear lack luster and dull. This subtracts from the over all beauty of the jewelry. You may not have to take your diamond and gold jewelry to the jeweler to be cleaned all the time. It may not be necessary. Instead, you can clean your jewelry with items that you probably already have at home. This will keep you jewelry looking its best in between visits to the jeweler.
Things You'll Need:
Plastic bowl
Warm water
Dish soap
Soft brush
Soft, lint-free cloth
Jewelry bag
Jewelry box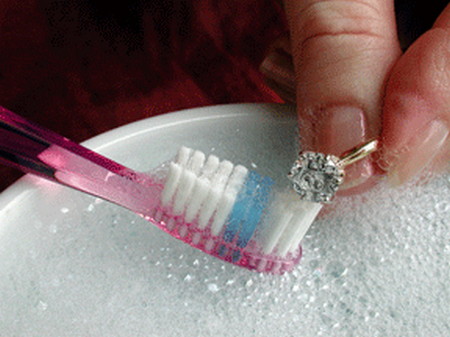 Step 1
Place warm water in a small plastic bowl or container. Add a few drops of dish detergent to the warm water in the bowl. Be careful not to add to much soap as this may leave a a film or residue on your jewelry. It is safe to use dish washing detergent on your jewelry because it is not harsh to abrasive. Do not use harsh chemicals like bleach or abrasive detergents to clean your diamond and gold jewelry.
Step 2
Place the diamond and gold jewelry into the container with the soapy, warm water. You want to allow the jewelry to sit in the solution for several minutes. If your jewelry is heavily soiled, consider letting it sit longer.
Step 3
Remove your gold and diamond jewelry from the solution. Use a soft bristled brus to scrub your jewelry. Pay attention to the crevices and details. Scrub the small spaces all around the jewelry, front and back. You can use a jewelry cleaning brush, or you can use a toothbrush to help you with this step. Do not use hard brushes. You want to take care not to scratch or damage the surface of your gold jewelry.
Step 4
Now, we need to remove the soap residue from the jewelry. Rinse your gold and diamond jewelry in warm water. Use a lint free, dry cloth to pat the jewelry dry. Allow the cloth to absorb all the excess water from the rinsing process. You can see the shine returning back to your jewels.
Step 5
If you are not going to wear the jewelry, store it in a cloth bag. This will help protect it from accumulating dirt in the future.
Filed Under: General How To's
About the Author: Bruno Silva is an entrepreneur from Portugal with over 15 years of experience in Online Marketing. He is also a blogger and writes on variety of topics from online marketing to designs, cars to loans, etc.
Comments (0)