By Alan Kennon on May 15, 2010 with Comments 0
---
Leather is popular for its durability. White leather can be made by two different ways. It can be processed by aldehyde ot synthetic. Both of these ways is known to produce a creamy white product. This is what is used to make white purses. These purses are prone to stains and dirt. The stain removal requires careful cleaning. Some cleaning methods and products can trun your white leather yellow or dry and crack the leather, detroying it completely.
Things You'll Need:
Damp sponge
Dish soap
Soft cloths
70-percent isopropyl alcohol
Cotton swab
Distilled white vinegar
Linseed oil
Spray bottle
Baking soda
Small bowl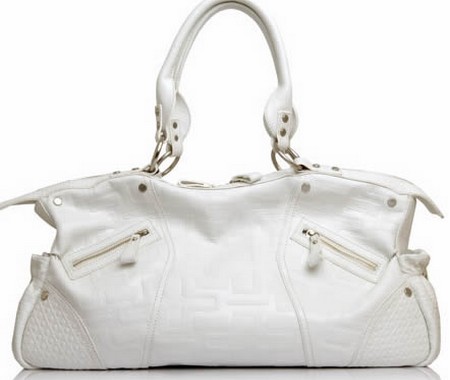 Step 1
First, wipe your white leather purse with a damp sponge to remove anything that may be on the surface. Dirt and grime often buildup. Now, add a drop of dish detergent to the sponge and wife over the purse again.
Step 2
Rinse the soap from your sponge. Now remove the soap from the purse by wiping over the area with a clean sponge. Now dry the white leather purse with a soft cloth. This will guarantedd that your ourse is dry and that water spots with not later appear.
Step 3
to remove any inkmarks that may have gotten on you ourse by accident, apply 70 percent Isopropyl Alcohol to a clean cotton swab.  Apply the alcohol directly to the ink stain until it is no longer visible. Wipe the area with the clean, damp sponge after the ink is removes. Dry the purse with a soft cloth.
Step 4
Pour equal parts of white vinegar and linseed oil in a spray bottle. Spray the purse with the solution. Buff away all the stains with a soft, clean cloth.
Step 5
Add some baking soda to a bowl. Add just enough water to make a thick paster. Directly apply the baking soda page to the white purse with a soft cloth. Remove the heavier stains by rubbing in circular motions until they aren't visible.
Step 6
Use a damp sponge to wip about the residual baking soda paste. Dry the leather with a cloth. Buff it to restore the sheen with a dry, soft cloth.
Step 7
If you have ink stains on your white leather purse, you can remove the stain with a soft toothbrush and toothpaste. Apply the toothpaste directly to the stain and gently scrub until the stain is lifted. Wipe the toothpaste off the purse with a damp sponge.
Step 8
To keep your leather looking nice apply saddle soap after you clean it. This will give it shine and make it look nice.
Filed Under: Lifestyle & Personality
About the Author: Alan Kennon lives a very happy life with two kids and a lovely wife. He likes to share his life time experiences with others about how they can improve their lifestyle and personality.
Comments (0)