By Andrew Reinert on Jun 14, 2010 with Comments 0
---
According from a denture clinic, lack of regular dental check ups and cleaning can contribute to people losing their natural teeth, in turn needing dentures or something similar to dental implants. Those who do not have dental insurance and the elderly have no other option but to wear partial if not permanent dentures although dental implants are becoming more popular nowadays. Dental implants in Kyle eliminate the embarrassing inconvenience of removing dentures, as well as the need for messy adhesives to keep them in place. Dentures can increase confidence in those who have lost teeth. It's very important, however, for denture wearers to properly clean and maintain them. Rather than buying expensive commercially produced cleaners, you can make your own home remedies to clean your dentures.
Use baking soda. Food and beverages you eat and drink may cause stains on your dentures. Baking soda contains an effective whitening ingredient that cleanses both natural and false teeth. Baking soda works in three ways. First, you can use it to remove unsightly stains on your dentures. Second, it can clean your gums and your dentures. And finally, it can serve as a deodorizer for your gums and dentures.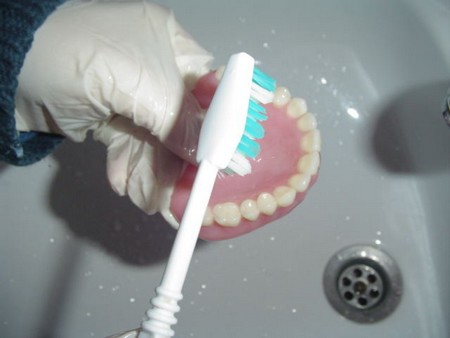 Use vinegar. Plaque on teeth hardens and can cause bacteria that can damage your teeth, whether they're real or false. To prevent plaque build-up, mix one part vinegar and one part water, then soak your dentures in this solution. Afterwards you need to brush the dentures thoroughly. This solution can also whiten your dentures.
Use salt and baking soda. Combine salt, baking soda and glycerin to make an effective and gentle toothpaste. Use a finely grained salt, as rock salts can leave scratches and damage your dentures. You can add in a flavor if you want such as mint or menthol.
Use antibacterial soap. You can brush your dentures with an antibacterial soap or wash combined with warm water. This will disinfect your dentures, eliminate bacteria and prevent future bacteria build up.
Use bleach. Bleach is an active whitening agent. You can mix equal amounts of water and bleach and use the solution to brush on the dentures to remove stains from your dentures.
Use hydrogen peroxide. Hydrogen peroxide is inexpensive and has many uses. Choose a solution of 3 percent. Simply pour hydrogen peroxide in a container and soak your dentures in it for about 30 minutes. Brush the dentures and then rinse them thoroughly with water.
Use warm water. Pour warm water in a container and soak your dentures for about 30 minutes. The warm water will break any residue and debris from the dentures. Use a brush and aloe vera gel to brush your dentures afterwards, and then rinse them thoroughly with warm water.
If you  will be waring dentures soon is important that you take good care of them, to learn more about the subject see here a new blog post about what happens if i dont wear my dentures.
Tips and Warning
Always be careful when removing your dentures, since they can break if they hit a hard surface.
While you clean your dentures, brush your gums to remove any bacteria and kill germs for fresher breath.
Wash your dentures after every meal. If you cannot thoroughly clean them with a solution, brush them with a regular toothpaste and water.
If the base of your dentures breaks, it's time to look into denture prices because it'll need to be replaced.
Filed Under: Health & Personal Care
About the Author: Andrew Reinert is a health care professional who loves to share different tips on health and personal care. He is a regular contributor to MegaHowTo and lives in Canada.
Comments (0)